Head and Neck Cancer Program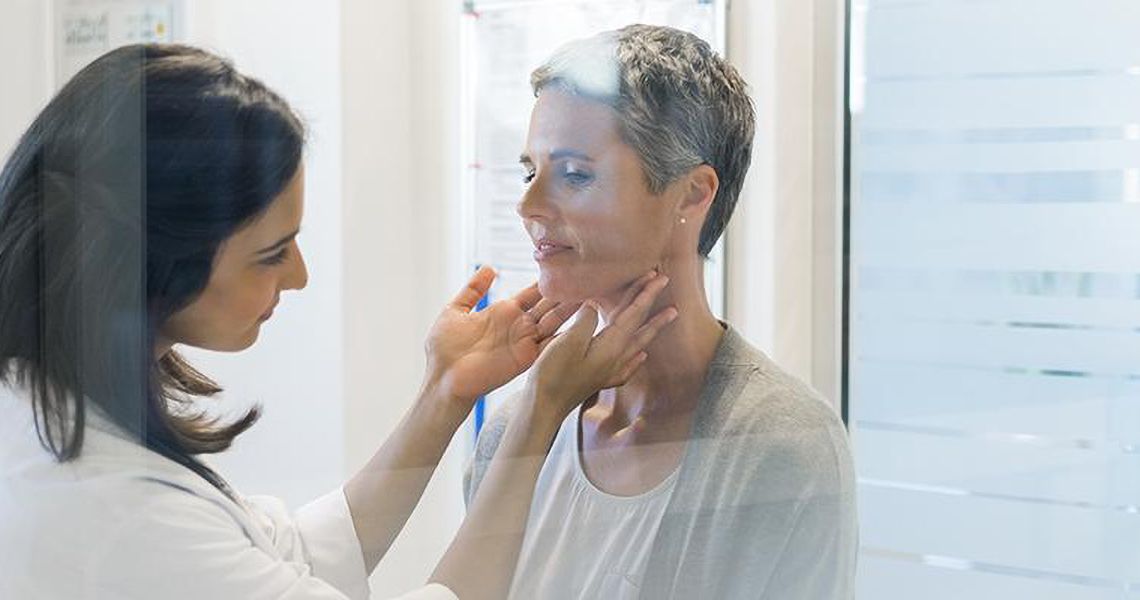 GW Head and Neck Cancer Program
A Leader in Minimally Invasive Treatment Options
The GW Cancer Center's Head and Neck Cancer Program is made up of an internationally renowned team of experts in a variety of different specialties. Every patient's case is unique, which is why we take an individualized approach to treatment. Because head and neck cancer patients often face a variety of challenging side effects and other complications from treatment, our multidisciplinary team includes specialists in otolaryngology, head and neck surgery, plastic surgery, medical and surgical dermatology, medical oncology, radiation oncology, nutrition and other supportive care services. Our team offers patients the most cutting edge and minimally invasive treatment options available.
Program Information
The GW Cancer Center's Head and Neck Cancer Program oversees the care of patients with all cancers of the head and neck, including laryngeal and hypopharyngeal cancer, nasal cavity and sinus cancer, nasopharyngeal cancer, oral cancer, esophageal cancer, thyroid cancer and salivary cancer. This includes patients with active cancers, as well as patients with suspected cancers who are in need of diagnostic testing or surveillance. The Head and Neck Cancer Program also collaborates with GW's Cutaneous Oncology Program to treat patients with certain types of skin cancer.
Our recommendations for treatment are individualized to the stage and type of each patient's cancer or condition. Our personalized approach to treatment also means minimizing the many functional and cosmetic concerns that can be associated with head and neck cancers. Here at GW, the physicians treating our patients are also on the frontlines of innovative research into advanced treatment options, like radiation-sparing approaches and minimally invasive surgery.
Our multidisciplinary approach allows patients to have access to a wide variety of specialists during their visit, including:
Medical and radiation oncologists coordinate chemotherapy, immunotherapy and radiation therapy treatments to achieve the best outcomes possible for patients
Surgeons who specialize in surgical oncology of the head and neck use minimally invasive procedures and robotically assisted surgery, which means smaller incisions, less scarring and faster recovery
Speech pathologists and voice therapists assist with communication and swallowing issues
Occupational therapists help patients with daily activities and addressing concerns related to lifestyle and well-being
Physical therapists work to prevent or address complications and restore functionality to the shoulder joint, neck and face
Nutritionists aim to optimize patients' nutrition status, manage side effects, reduce complications and improve quality of life during and after treatment
Social workers and psychologists address practical and psychosocial challenges throughout the continuum of care
Patient navigators help overcome barriers to care and assist with care coordination
Palliative care experts work with the care team to improve quality of life and address treatment side effects or other issues
This approach assures the most thorough assessment and treatment plan. We believe in an integrative approach to the whole person.
---
Additional Information
You will be cared for by a comprehensive team of specialists that combines leading experts with the latest technological and research advances. Our multidisciplinary team works together to create a personalized treatment plan that supports all of your medical, nutritional and emotional needs. At the GW Cancer Center's Head and Neck Cancer Program, you will have access to:
A multidisciplinary treatment team of world-renowned experts in head and neck surgery, reconstructive surgery, medical oncology, radiation oncology and radiology
Experts in dermatology and cutaneous oncology for skin cancers involving the head and neck
Clinical trials
Advanced radiation oncology techniques including external beam radiation therapy (EBRT), intensity modulated radiation therapy (IMRT) and surface mold computer-optimized high-dose-rate bracytherapy (SMBT)
Radiation-sparing techniques like chemotherapy and minimally invasive surgery
Cancers of the head and neck are typically categorized by the area of the body in which they start, typically inside the mouth, the nose and the throat. Head and neck cancers make up approximately 4% of all cancers in the United States, and rates are on the rise. Areas where head and neck cancers can arise include:
Oral cavity including the lips, the front of the tongue, the lining inside the cheeks and lips, the bottom of the mouth under the tongue, the hard palate and small area of the gum behind the wisdom teeth
Throat, or pharynx, starting behind the nose and leading to the esophagus
Voicebox, or larynx, which contains the vocal cords and epiglottis which prevents food from entering air passages
Paranasal sinuses and nasal cavity including the small hollow spaces in the bones of the head surrounding the nose as well as the hollow space inside the nose
Salivary glands
Adapted from the National Cancer Institute's Head and Neck Cancers Fact Sheet
The GW Cancer Center's Head and Neck Cancer Program also sees patients with thyroid cancer, certain types of skin cancer and cranial or facial tumors. We also specialize in treating patients with human papillomavirus-associated (HPV) cancers. Learn more about specific cancer types and conditions.
The GW Cancer Center offers a variety of 
clinical trials
. Patients with 
skin cancer
 can also enroll in our blood, tissue and database collection studies for melanoma, squamous cell carcinoma, Merkel cell carcinoma and cutaneous T-cell lymphoma.
Some of the procedures we offer for diagnosing and treating head and neck cancers include:
Thyroid and parathyroid surgery
Minimally invasive laser techniques which can avoid the need for extensive surgical exposure and complicated reconstructive procedures
Craniofacial trauma and reconstruction, including local, regional and free microvascular flaps (one of the most advanced surgical options available that uses tissue from other parts of a patients' body to rehabilite damage caused by the removal of head and neck tumors)
Trans-oral robotic surgery (TORS) which allows surgeons to operate through the patient's mouth instead of a long incision through the throat and jaw, avoiding facial disfigurement and a tracheotomy
Sialendoscopy, a technique used to examine the openings of the salivary glands and remove any salivary stones or debris that may be present
Flex® Robotic System, which allows surgeons to access anatomical locations that were previously difficult or impossible to reach without invasive surgical interventions, equipment that is only available regionally at the GW Hospital
Sentinel lymph node biopsy for melanoma, a specialized procedure to see if melanoma cells have spread to sentinel nodes closest to the primary tumor
---
Info for Patients
GW HEAD AND NECK CANCER PROGRAM
2300 M Street, NW 4th Floor
Washington, DC
United States
Schedule an Appointment
202-741-2210