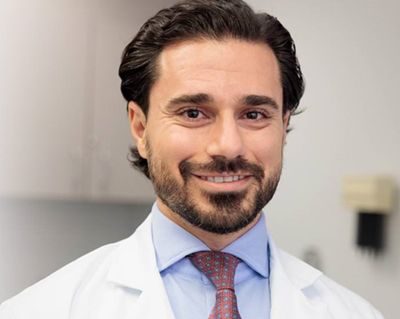 October 26, 2023 –Fayez Estephan, MD, joined the George Washington (GW) University Cancer Center
and GW School of Medical and Health Sciences (SMHS) as Assistant Professor of Medicine in the Division of Hematology & Oncology in August. His special interests include gastrointestinal and genitourinary malignancies. He is board-certified in Internal Medicine and board eligible for Medical Oncology and Hematology.
Estephan received his medical degree from Damascus University Faculty of Medicine in Damascus, Syria. After that training, he was awarded a research fellowship at the Cleveland Clinic in Cleveland, Ohio. While completing his internal medicine residency at MedStar Health in Baltimore, Maryland, Estephan pursued post-doctoral oncology research training at the Sidney Kimmel Comprehensive Cancer Center at Johns Hopkins University, focusing on primary central nervous system lymphoma, under Matthias Holdhoff, MD, PhD.
"I'm excited to continue the journey I started three years ago at the GW Cancer Center and the MFA when I joined the Hematology and Oncology Fellowship Program," Estephan said. "I am committed to delivering comprehensive and personalized cancer patient care and I look forward to working with the next generation of oncologists here at GW, and to further build on my research and clinical trials experience."
In 2022, Estephan was awarded the  Albert L. and Elizabeth T. Tucker Postdoctoral Fellowship for his research project titled "Her-2 overexpression in prostate adenocarcinoma: its prevalence, clinical significance and utility as a therapeutic target."
Estephan is exploring tumor profiling of prostate cancer in veterans treated at the Washington DC VA Medical Center, with support from mentor Maneesh Jain, MD, associate professor of medicine at GW SMHS. This research led to an accepted abstract at the American Society of Clinical Oncology's 2023 Genitourinary Cancer Symposium.