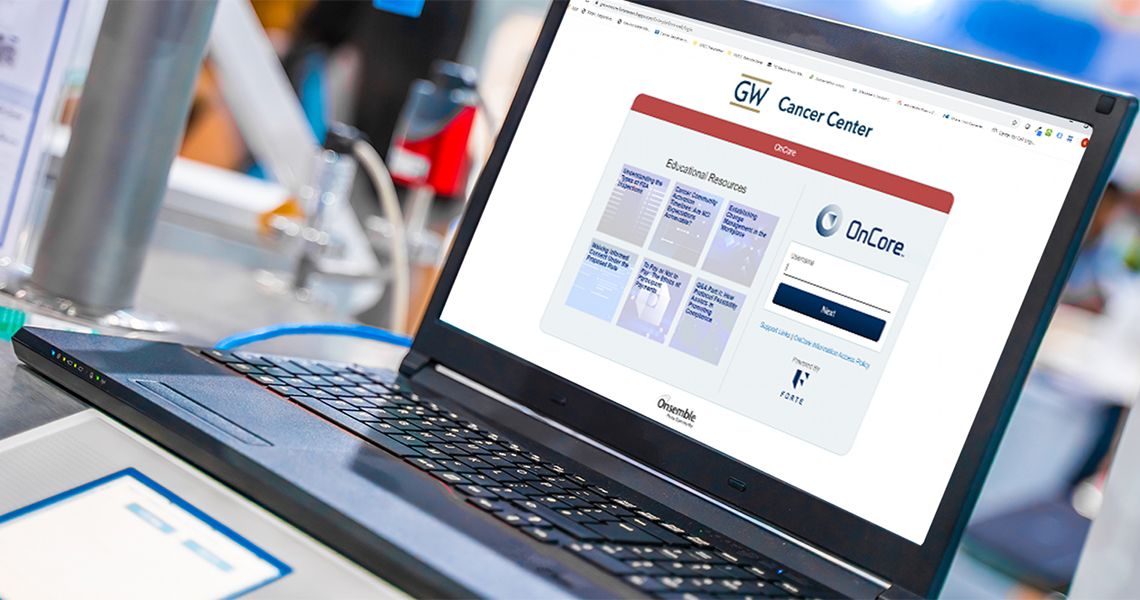 About OnCore and EDC
OnCore is GW's Clinical Trial Management System (CTMS). Advarra EDC, which works in conjunction with OnCore, is a validated electronic data capture system; it will be used for investigator-initiated trials. Both systems are created and supported by Advarra and can be accessed through a web browser.
Requesting Access to OnCore and/or EDC
Before accessing OnCore or EDC, users must fill out the Access Request Survey and wait for approval. Note that this survey should also be used to request removal of access or a change to access. After users are approved, the Clinical Trials Office will assign required training and explain next steps. Training is mandatory prior to receiving access to either OnCore or EDC.
Follow these steps to obtain access to OnCore or EDC:
To request training, please complete the Access Request Survey
Wait for the OnCore Application Administrator to reach out with next steps

You will need GW credentials (a GWID and GW email address) in order to access OnCore or EDC. It's best to have these credentials before scheduling training.

Schedule live OnCore training (virtual via Webex). Training usually lasts two hours. (If requesting access to EDC, your training will happen asynchronously via Advarra University, the vendor's online learning portal. You will receive information from the Application Administrator about setting up an account.)
After successfully completing training, your OnCore and/or EDC account will be created.
Access Request Survey for OnCore or EDC
Training and Assistance
Advarra University eLearning Opportunities
Advarra University provides a library of training tutorials and eLearnings for OnCore and EDC. For OnCore, these eLearnings provide supplemental training opportunities. If you would like to set up an Advarra University account, please contact us at oncore@gwu.edu.
Guides and Tip Sheets
The OnCore and EDC Training Library provides guides and tip sheets with detailed instructions on how to perform basic tasks in OnCore and EDC. OnCore users have access to the Training Library. If you are not yet an OnCore user but would like to access these resources, contact us at oncore@gwu.edu. Additional assistance can also be accessed within OnCore or EDC by clicking on your user account name in the top right corner and selecting "Help" (OnCore) or "Learning Portal" (EDC).
User Community
Onsemble.net is OnCore's user community site. It contains links to further learning documentation for each Advarra product, as well as areas for the community to share best practices and documents. Users must sign up for an account to access Onsemble and are encouraged to do so.
Frequently Asked Questions (FAQs)
Why is the GW Cancer Center using OnCore and EDC?

The GW Cancer Center has chosen to adopt OnCore and EDC in order to make protocol management, subject management and financial management relating to trials more straightforward and transparent. OnCore makes it easy to keep track of all the moving pieces involved throughout the lifecycle of a study. Rather than hunt through multiple spreadsheets to get the answer to a study-related question, investigators can log in to OnCore and access all relevant data in one convenient place. By getting rid of data silos and enabling centralized tracking of trial data, study staff will have a clearer window into how studies at our institution are faring at any given time.

EDC, as a validated system, meets Title 21 CFR Part 11 requirements for the storage of electronic records and signatures. It will allow the GW Cancer Center to store data about investigator-initiated trials in a reliable manner that is in compliance with the above-mentioned requirements set down by the FDA.

When should I use OnCore for my clinical trials?

OnCore will be used for all clinical trials at the GW Cancer Center going forward. Investigator-initiated trials will be entered into EDC, as well, and managed from there (some protocol information will carry over, as EDC is linked to OnCore).

How can I get data out of OnCore for analysis?

OnCore comes with many standard reports in a variety of areas, including Data Table 4 reporting. Users with reporting permissions can run reports and download the results in Excel format for further tweaking. In addition, protocol and subject search pages allow for detailed queries in these areas. EDC has robust reporting capabilities, as well. All data can be exported as an Excel file or SAS dataset. To learn more, see the reporting-related guides in the training library.

OnCore and EDC common troubleshooting questions

Why does OnCore/EDC log me out while I'm entering data?

Per security guidelines, OnCore (or EDC) will automatically log you out if the system detects you have been inactive for 10 minutes. Activities that let OnCore know you are actively working include hitting "submit" after entering data or moving to a different page in the console. If data entry is taking longer than you expected, it is best to hit the "submit" button to save your work (do not double-click).

I'm following directions, but when I click on a button in expectation of getting a list of items to choose from, nothing shows up. What's going on?

You'll need to disable the popup blocker on your browser in order for OnCore/EDC to work properly. If you have disabled your popup blocker and still aren't seeing what you expect to see, email us at oncore@gwu.edu and we can assist.

I'm not seeing the buttons I need to click to move forward with my work. What's going on?

You might not have the right permissions to view an "update" or "signoff" button. Get in touch with us at oncore@gwu.edu and let us know what's going on; we can update your permissions based on your role.