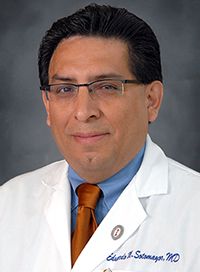 WASHINGTON (May 11, 2015) - The George Washington University (GW) School of Medicine and Health Sciences (SMHS), the GW University Hospital, and the GW Medical Faculty Associates are pleased to announce the appointment of Eduardo M. Sotomayor, M.D., who will serve as the inaugural director of the GW Cancer Center. As director, Sotomayor will establish the GW Cancer Center (GWCC) and position GW as the premier cancer center in the Washington, D.C. region. One of his top priorities will be to attain the prestigious National Cancer Institute (NCI) designation within the decade. He will also serve as a professor of medicine.
"GW is making an historic commitment to advance basic science and translational discoveries in cancer, while providing cancer patients with greater opportunities for cutting-edge treatments and enhancing our efforts in cancer prevention," said Jeffrey S. Akman, M.D., vice president for health affairs at GW, Walter A. Bloedorn Professor of Administrative Medicine, and dean of the GW SMHS. "In 2016, with oversight by Dr. Sotomayor, GW SMHS will open a cancer research center in the new GW Science and Engineering Hall. Located in the largest academic facility in the nation's capital dedicated to science and engineering research and education, this unparalleled setting will provide extraordinary opportunities for cross-disciplinary collaboration and innovative partnerships across the university."
Sotomayor will serve as chief academic and clinical leader with responsibility and authority over all aspects of the GWCC. The GWCC will incorporate all cancer-related activities, as well as serve as the platform for future development. It will be a vehicle for bringing together and/or building transdisciplinary programs that will serve as components for federal and other prestigious grant funding.
In addition to its research mission, the GWCC will guide the organization and operations of the clinical cancer services to appropriately support translational and clinical research, ensure a continued high standard of care, and deliver personalized care. Creating personalized cancer care will be a priority for Sotomayor, who prior to joining the GWCC served as the scientific director of the DeBartolo Family Personalized Medicine Institute at Moffitt Cancer Center. One of Sotomayor's top goals will be to develop a roadmap to efficiently deliver personalized medicine at the point of care, and in the near future, position the GWCC to join the Oncology Research Information Exchange Network, a unique research partnership of North American cancer centers who collaborate and share information to offer patients novel targeted treatments.
"I am proud to welcome Dr. Sotomayor as a member of the Department of Medicine who will advance the clinical, educational, and research mission of the department," said Alan Wasserman, M.D., chair of the Department of Medicine and president of the GW Medical Faculty Associates. "In joining the largest department in the GW School of Medicine and Health Sciences, he will lead our outstanding faculty in enriching the lives of cancer patients and the community we serve, and I couldn't be more excited to have someone with Dr. Sotomayor's reputation and talent lead us in becoming the premiere center for cancer research and patient care."
In addition to Sotomayor's role as the scientific director of the DeBartolo Family Personalized Medicine Institute, he also served as the Susan and John Sykes Endowed Chair of Hematologic Malignancies and chair of the Department of Malignant Hematology at the Moffitt Cancer Center and Research Institute. He also served as professor in the Department of Oncologic Sciences and the Department of Pathology and Cell Biology at the University of South Florida College of Medicine.
"I am humbled and thrilled with my selection as the inaugural director of the GW Cancer Center during this era of transformational changes in the history of GW," said Sotomayor. "What attracted me the most to GW is the unique opportunity to create a dynamic and innovative cancer center that, because of its location in the nation's capital, can influence cancer research innovation, as well as cancer policy. This unique platform, together with the strong commitment and investment from the senior leaders of the GW SMHS, the GW Hospital, and the GW Medical Faculty Associates, is clearly a recipe for success."
Sotomayor is an internationally recognized visionary in the field of lymphoma research and treatment. His primary area of research is immunobiology and immunotherapy of B-cell malignancies, with special emphasis on the design of novel immunotherapeutic approaches for these diseases. Clinically, Sotomayor has a particular interest in mantle cell lymphoma, an aggressive subtype of B-cell non-Hodgkin lymphoma. He has developed an extensive portfolio of basic, translational, and clinical research initiatives for this disease.
Sotomayor has published more than 100 manuscripts, including seminal publications in leading journals such as Nature Medicine, Nature Immunology, Immunity, Cancer Cell, Proceedings of the National Academy of Sciences, Journal of Clinical Investigations, Blood, Cancer Research, and Journal of Immunology. He has received numerous awards for his research accomplishments, including the Lymphoma Research Foundation Fellowship Award and Junior Faculty Award, the Celgene's Young Investigator Achievement Award in Hematology, as well as continued Research Project Grant funding during the past 15 years from the National Institutes of Health to support his basic and translational studies in cancer immunology and immunotherapy.
Sotomayor is a member of several prestigious committees, including Subcommittee A of the NCI, that is charged with reviewing the performance of all NCI-designated Cancer Centers in the U.S. on terms of research projects, team science, and research training activities in the areas of cancer biology, diagnosis, treatment, and prevention. He is also a member of the Executive Committee of the Mantle Cell Lymphoma Consortium and the Advisory Board of the Lymphoma Research Foundation. His professional affiliations include membership in the American Society of Hematology, American Society of Clinical Oncology, and the American Association for Cancer Research.
Following graduation from medical school at the Universidad Nacional Federico Villarreal in Lima, Peru in 1988, Sotomayor began postdoctoral training in microbiology and immunology at the University of Miami Miller School of Medicine. He completed a residency in internal medicine at Jackson Memorial Hospital and the University of Miami Miller School of Medicine, followed by a fellowship in medical oncology at Johns Hopkins University School of Medicine.
For nearly two decades, Sotomayor has served as a leader, mentor, and educator for undergraduate students, medical students, graduate students, medical residents, clinical and research fellows, as well as junior faculty members.
"Whether an individual is seeking cancer services, or care for any other health needs, our number one priority is to ensure that every person who comes through our doors receives high-quality, advanced and compassionate care," said Barry A. Wolfman, CEO of the GW Hospital. "We are thrilled to have Dr. Sotomayor, a recognized leader in cancer care, join our team. With his leadership, the GW Cancer Center will offer patients and their loved ones access to the most advanced treatment protocols, giving them hope during what can be one of the most challenging times of their lives. We are excited about the GW Cancer Center's unquestionable ability to improve the lives of those affected by cancer by transforming cancer care in the D.C. region."
Sotomayor will start his new role as director of the GWCC in July 2015.
###
About the GW School of Medicine and Health Sciences
Founded in 1824, the GW School of Medicine and Health Sciences (SMHS) was the first medical school in the nation's capital and is the 11th oldest in the country. Working together in our nation's capital, with integrity and resolve, the GW SMHS is committed to improving the health and well-being of our local, national and global communities. www.smhs.gwu.edu.
About the GW Hospital
The George Washington University Hospital is a 385-bed tertiary care, academic medical center located in downtown Washington, DC.  Featuring a Level I Trauma Center and a Level IIII NICU, GW Hospital offers clinical expertise in a variety of areas including cardiac, cancer, neurosciences, women's health, and advanced surgery including robotic and minimally invasive surgery.  The mission of the George Washington University Hospital is to provide high-quality health care, advanced medical technology and world-class service to its patients in an academic medical center dedicated to education and research. GW Hospital is jointly owned and operated by George Washington University and a subsidiary of Universal Health Services, Inc. (UHS).
About The GW Medical Faculty Associates
The GW Medical Faculty Associates is committed to comprehensive, quality and accessible patient care in the communities we serve. We are the largest, independent physician group in the Metropolitan Washington area offering primary care and 51 specialties with more than 750 providers committed to coordinated, patient-centered care built on a rich history of academic medicine.  Our physician practices are located in Washington, DC, Maryland and Northern Virginia.  Find a provider and location convenient to you by visiting www.gwdocs.com.