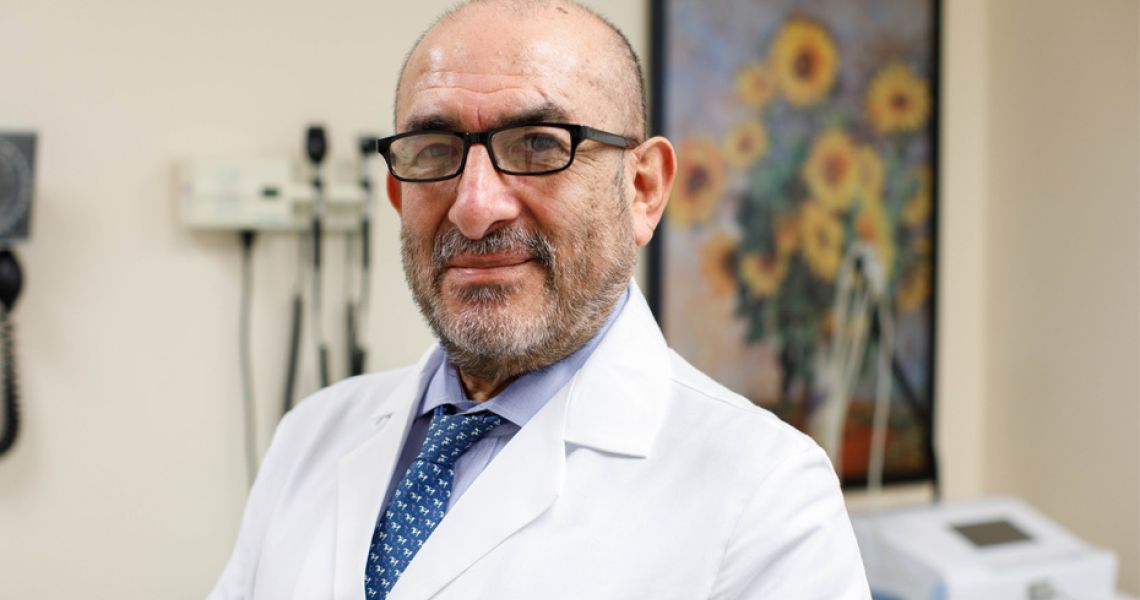 Elmer Huerta, MD, MPH, director of the Cancer Preventorium at the George Washington University Cancer Center, has been invited to participate in the White House Cancer Moonshot Colorectal Cancer Forum.
He will be at the White House Complex on March 10 as administration officials provide updates on progress on several key Moonshot initiatives and seek input from patients, caretakers, oncologists and researchers. The Cancer Moonshot initiative, spearheaded by then Vice President Joe Biden, was launched in 2016. Now that Biden is president, he has reignited the initiative and set a new national goal: cutting the death rate from cancer by at least 50% over the next 25 years while improving the experiences of people and their families who are living with and surviving cancer.
Huerta is the founder or the Cancer Preventorium, which is a low-income clinic, which he founded in 1994, accepts only people without symptoms for chronic diseases prevention and screening. Dr. Huerta also served as the first-ever Latino National President of the American Cancer Society, when he was elected in 2007. As a cancer researcher, he was the principal investigator for the Latin American Cancer Research Coalition, a National Cancer Institute funded program in the Washington DC metropolitan area.
He founded the Cancer Preventorium at the MedStar Washington Hospital Center Cancer Institute in Washington DC. This preventive health care center, distinguished by the United States government as a futuristic model of health care, focuses on the care of apparently healthy people for the early detection and prevention of cancer, diabetes, and heart disease. Under its motto "A Clinic for Apparently Healthy People", the Preventorium has treated more than 38,000 people from more than 30 countries since its creation, 90 percent of them without symptoms.
With over 30 years of patient care and educational experience, Dr. Huerta is recognized as a very reliable source of medical information in the Hispanic community and media. He is a prominent figure on Spanish-language radio and television in the United States and Latin America.
Dr. Huerta is a Medical Collaborator for the CNN en Espanol network, for whom he produces, and hosts "Coronavirus Realidad vs. Fiction" selected as the best podcast in the United States in 2021 and 2022. His one-hour, daily, radio show "El Consultorio Comunitario" (The Community Clinic of the Air) has been on the air since 1994 and reaches Latinos living in the Washington DC and Miami Metropolitan Areas and in Panama City.
Dr. Huerta has repeatedly testified before the U.S. Congress on minority health issues and was appointed by President Clinton as member of the National Cancer Advisory Board in 1998. He is a former member of the Board of Directors of the Prevent Cancer Foundation, National Coalition of Cancer Survivorship, Research America, and the Intercultural Cancer Council, and was a founding member of the Board of Directors of the American Legacy Foundation.
In 2005, Dr. Huerta's Cancer Preventorium was recognized by the Secretary of the Department of Health and Human Services for its achievements in closing the Health Care Gap. In addition, the Cancer Preventorium is one of the models for The Patient Navigator, Outreach, and Chronic Disease Prevention Act of 2004 (H.R. 918/S.453) signed by President George W. Bush.
In 2008 Dr. Huerta was selected as one of the 100 Most Influential Hispanics in the United States.
In 2013 Dr. Huerta was distinguished by the White House as Champion of Change in Public Health and Prevention and received the Medal of Honor by the Peruvian Congress.
Dr. Huerta was born in Perú, where he obtained his medical degree at the University of San Marcos in 1981. Trained in Internal Medicine and Medical Oncology in Perú, he moved to the United States in 1987. He completed a fellowship in oncology research at the Johns Hopkins Oncology Center in 1988. In 1991, he completed his residency in internal medicine at St. Agnes Hospital in Baltimore. Then, in 1992, Dr. Huerta received a Masters Degree in Public Health at the Johns Hopkins School of Hygiene and Public Health. He completed his fellowship in Cancer Prevention and Control at the National Cancer Institute, National Institutes of Health, in 1994.
 "I am honored to be a part of this forum. I look forward to collaborating with other cancer experts and working to find answers to address the cancer burden in our country. Everyone is touched by this disease, and I am hopeful that we will find a cure," said Huerta.
The forum on colorectal cancer is scheduled from 3 to 5:30 p.m. (EST) March 10 at the White House Complex.