The GW-SPARC program is designed to advance cancer research through enhancing diversity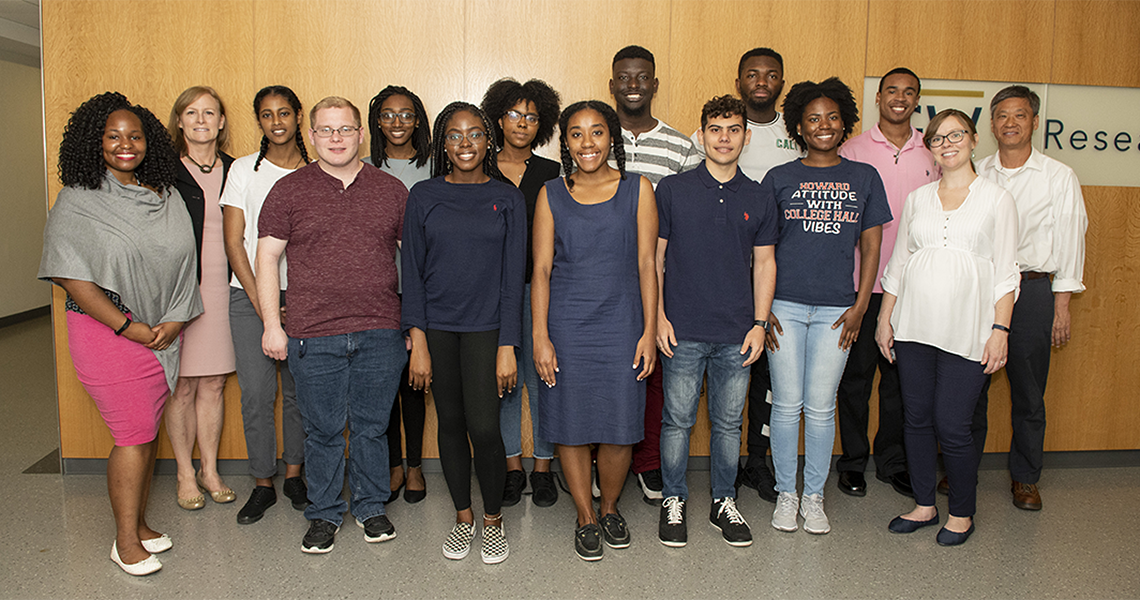 View photos from the GW-SPARC Program
WASHINGTON (June 25, 2018) -The George Washington University (GW) School of Medicine and Health Sciences, in partnership with the GW Cancer Center, has launched a new summer program to advance cancer research through enhancing diversity in the field. The program is open to undergraduate students and is called the GW Summer Program Advancing Research on Cancer (GW-SPARC).
"GW-SPARC will not only expose participants to cutting-edge research and contemporary cancer research techniques, but will also help foster understanding of health disparities and the impact of cancer in different communities," said Alison Hall, PhD, associate dean for research workforce development at the GW School of Medicine and Health Sciences. "Most importantly, this program will help prepare diverse students for research careers, leading to discoveries that will improve our futures."
The program is open to U.S. undergraduate students from groups underrepresented in biomedical sciences. Preference will be given to sophomores and juniors so they might return for a second summer. Participants get the chance to live and work in the heart of Washington, D.C., just blocks from national monuments, museums, and entertainment.
Through the program, students perform hands-on, mentored research in laboratories focused on cancer immunology and immunotherapy, cancer biology including targeted therapies and epigenetics, and cancer engineering and technology. Participants attend weekly workshops and seminars and at the end of the summer, and participate in a poster session. They also participate in a book club focused on the human impact of cancer; this year the book Everybody's Got Something will be discussed.
"At the GW Cancer Center, students will be mentored by researchers, using modern research techniques to look at issues like why African-American men are more heavily affected by prostate cancer, and many other aspects of cancer biology and health equity," said Edward Seto, PhD, associate center director for basic science at the GW Cancer Center and King Fahd Professor of Cancer Biology at the GW School of Medicine and Health Sciences. "Our hope is that graduates from this summer program will go on to become active, motivated cancer researchers, ready to solve today's most pressing problems, for those who need it most."
While applications are no longer being accepted for summer 2018, students can apply to the program for summer 2019 in winter 2018-19. For more information about GW-SPARC, visit smhs.gwu.edu/gwsparc.
"Diversity is critical to the future of all biomedical research - without a diverse workforce, how do we know if we're asking the right questions? How do we include multiple approaches and perspectives?" said Hall. "Our goal is to support these students in their goals for graduate work, and invite them back to our programs at GW. We hope to have many programs like this at GW in the future in order to accomplish our goal of diversifying scientific research."
This program was created with the advice and expertise of an external advisory board. Members include experts from Howard University, M.D. Anderson, and the University of Puerto Rico.
The GW Hospital Women's Board also provided partial support for this initiative.
Media: For more information, or to interview Dr. Hall or Dr. Seto, please contact Ashley Rizzardo at amrizz713@gwu.edu or 202-994-8679.
###
About the GW School of Medicine and Health Sciences:
Founded in 1824, the GW School of Medicine and Health Sciences (SMHS) was the first medical school in the nation's capital and is the 11th oldest in the country. Working together in our nation's capital, with integrity and resolve, the GW SMHS is committed to improving the health and well-being of our local, national and global communities. smhs.gwu.edu