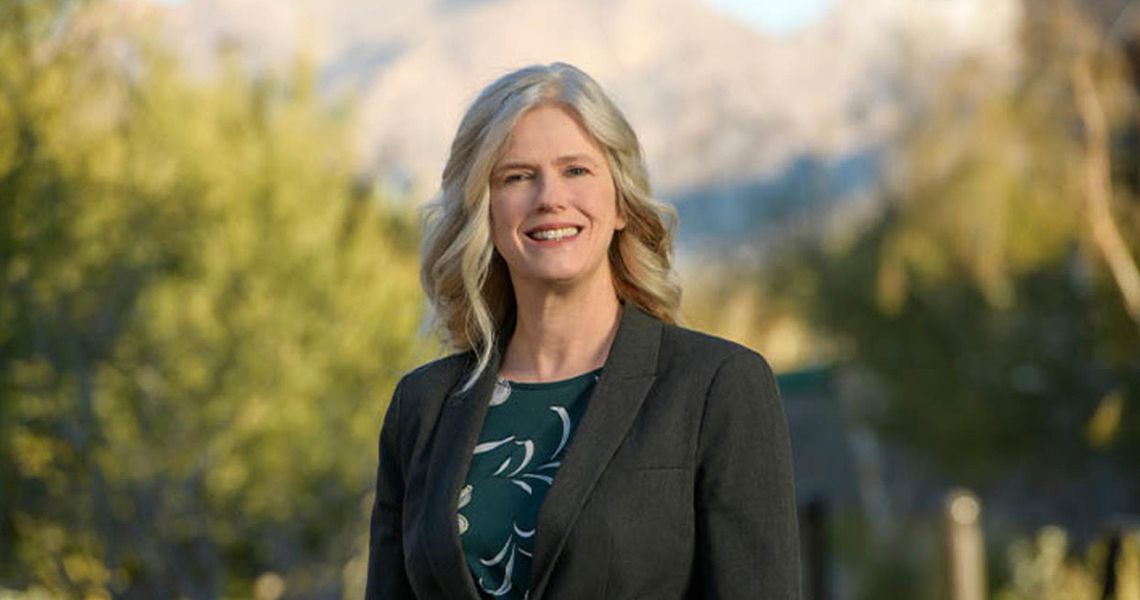 Announcement (Jan. 26, 2022) — The George Washington University (GW) is pleased to announce that Julie E. Bauman, MD, MPH, will join its academic medical enterprise to serve as the director of the GW Cancer Center. In this role, Bauman will build on the momentum of the last five years to enhance the clinical, research, and academic activities at the GW Cancer Center and establish it as the leading provider of cancer care and research in the nation's capital region. She will also serve as professor of medicine in the GW School of Medicine and Health Sciences (SMHS).
"We are thrilled Dr. Bauman will lead the George Washington University Cancer Center. She is well-equipped to oversee cancer care, research, prevention, and education in collaboration with faculty and leadership across our campuses. As we embark on our third century, GW will be better positioned to improve the lives of patients, advance discovery through research and scholarship, and educate future generations of caregivers and researchers," said GW President Mark S. Wrighton, PhD.
Bauman joins GW from the University of Arizona (UA) College of Medicine-Tucson, where she currently serves as professor of medicine, chief of hematology/oncology, and medical director of oncology services. She also is the deputy director of the UA Comprehensive Cancer Center and co-leader of its Clinical and Translational Oncology Program, which brings together basic and clinical scientists to transform scientific discoveries into clinical applications. Bauman completed a dual MD/MPH degree at Tufts University School of Medicine, internal medicine residency at the University of Utah, and medical oncology fellowship at the University of Washington/Fred Hutchinson Cancer Research Center. Her education and training, at the intersection of oncology and public health, resulted in unique expertise in clinical trial design. As a recipient of the prestigious National Institutes of Health (NIH) National Cancer Institute (NCI) Clinical Investigator Team Leadership Award, Bauman is a nationally recognized leader in cancer therapeutics for both prevention and treatment, with more than 150 publications and a long track record of NIH team science funding.
"With a distinguished academic record and national reputation, Dr. Bauman has the proven ability to develop and drive strategy for both the clinical and research arms of our organization. As a clinician-scientist, she will build the necessary infrastructure needed around clinical trials and create a culture that promotes enrollment in studies throughout the health care system. I look forward to working with Dr. Bauman to expand the critically important cancer-focused efforts at GW and provide high-quality care to those throughout our expanding metropolitan region," said Barbara Lee Bass, MD, vice president for health affairs, dean of GW SMHS, and CEO of the GW Medical Faculty Associates (GW MFA).
As the GW Cancer Center director, Bauman will drive the development of a premier clinical cancer program by leading the expansion of the oncology service line. She will enhance research programming, guide fundraising initiatives, and accelerate progress toward eradicating cancer, all through a strategy designed to lead to NCI designation. Working in concert with more than 180 participating faculty within various schools at GW and with cancer care leaders from the GW MFA, Bauman will oversee groundbreaking research, uncovering new approaches and treatments for cancer. She will grow essential training, education, and community outreach programs unique to the D.C. catchment. She also will work collaboratively across GW, and with its clinical partners, including Children's National Hospital, the GW University Hospital, and the Washington DC VA Medical Center, to build and expand multi-disciplinary care models for the delivery of cancer services that focus on empowering underserved patient populations in our community, improving health care delivery, ensuring equal access to cancer care, and eliminating cancer health disparities.
"I am inspired to be joining GW, an organization visibly committed to both equity and excellence, as the GW Cancer Center director. I look forward to engaging the superb basic, population, and clinical scientists across GW schools in a shared vision to defeat cancer. I am dedicated to understanding the cancer priorities of the vibrant and diverse D.C. communities and growing the multi-disciplinary cancer services that will bring cutting-edge science to our patients," said Bauman.
In addition to her current leadership roles at the UA College of Medicine and UA Cancer Center, Bauman is the co-principal investigator of the UA Cancer Prevention Clinical Trials Network, one of only five NCI-funded clinical trial networks devoted to drug development for cancer prevention. Her own research focuses on so-called "green chemoprevention," or the use of whole plants or their extracts for cancer prevention. Bauman also leads multiple national clinical trials for the treatment of head and neck cancer, with dedicated expertise in precision medicine and immunotherapy. She is the current co-chair of the NCI Cancer Prevention Steering Committee as well as the co-chair of the NCI Head and Neck Steering Committee's PULA Task Force. Bauman is also a 2020 graduate of the premiere Executive Leadership in Academic Medicine fellowship for women at the Drexel University College of Medicine.
"Under Dr. Bauman's leadership, the GW Cancer Center and the GW Hospital will continue developing life-saving services for our patients suffering from cancer and provide them with access to the most advanced treatment protocols. Our institutions will be giving these patients hope during what can be one of the most challenging times of their lives. GW will continue to improve the lives of those affected by cancer by transforming oncology care in the D.C. region," said Kimberly Russo, MBA, CEO of the GW Hospital and Group Vice President, DC Region.
Bauman will begin serving in this new role at GW in March 2022.