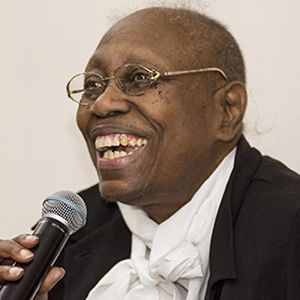 The Ballad of Ms. Jones
Amy Jones, or "Ms. Jones" as she's known around the GW Cancer Center (GWCC), flips through a catalog of head wraps and scarves, talking through her choices while the machines in the treatment room punctuate her rolling monologue with beeps.
"I came here with no hair, I have no hair now, [God] gave me hair then, he'll give me hair again," she says to her patient navigator, Eva Ruiz, who laughs.
"What about that scarf I gave you?" Ruiz asks.
"You should've seen me tie that thing," Jones says. "Girl, every time I would slip one way, it'd slide the other. And you know what? I walked in church that day, just like this, [without a wig]. The pastor looked at me, and I smiled."
Jones is a loyal churchgoer whose life path — one that's exceedingly unusual in a staid city like Washington, D.C. — has led her to GWCC. Born to unmarried parents, she was sold to a couple who couldn't have children. "I'll tell anybody, I'm blessed because Vivian and Mac got me for a half-a-pint of liquor," Jones says. "The reason why I say I'm blessed is there's no telling where I'd be today if [Vivian] hadn't stepped up."
Vivian and Mac put her through Catholic school, and with them, "everything was beautiful," Jones says. After graduating, she held a succession of jobs in health care — geriatrics was her calling, she explains — and the EPA, and she met her husband when he was stationed at Fort Bragg, North Carolina. Together, they had four children.
"I lost my namesake," she adds, adjusting the white blanket tucked around her. "I had a junior: Amy Vivian Brooks II. I lost her to breast cancer in 2014." Jones began to feel her own twinges of pain near her left breast a year later.
"That's something that took me back, when I was diagnosed with [stage 4 breast cancer]," she recalls. "Then I begin to argue and fight with God. You took my child, and then you give me breast cancer? Isn't that kind of backwards, God? I went into a battle for about two days with him."
She heard his voice one night, she says, calling to her, "You got it." Frantic, she rushed out of her home and called her friend. "She bust out laughing," Jones says. "She said, 'You don't get it yet, do you? When are you going to learn to shut your mouth and listen? That was God answering you, you dummy.' And then everything else transpired."
Initiating treatment, however, turned into a second battle for Jones; it was difficult for her to negotiate the various appointments, and she was reluctant to attend wound care services — until Ruiz stepped in.
"I will make it happen," Ruiz recalls saying. She arranged for transportation, called the wound care office to make sure Jones would have an appointment, and provided emotional support. Once Jones fully engaged in her treatment plan, "she was a peach," Ruiz says.
"It was scary at first," Jones recalls. "I'm a wuss for needles. Everybody on this floor will tell you, when it comes to needles, they've got to hold my hand, and I'm scrunching [my face] up and everything, but the team that I am with has dealt with my idiosyncrasies, let's put it that way. They have walked me through, they've held my hand."
Jones has now completed her chemotherapy treatments, and she is on maintenance therapy every three weeks, indefinitely.
"I'm 65 years old," she says. "I don't care what anybody says; when something like this comes up, it's not only a test of your faith, it's a test of endurance."
Her reward, she says, will be returning to her church to rejoin the gospel choir, whose members have been praying for her.
"First Sunday in November, I'm going to be up in that choir," she says. "It's something about singing, especially about singing gospel, that I just love. It takes me to another whole level. It's a beautiful thing."
---
I don't care what anybody says; when something like this comes up, it's not only a test of your faith, it's a test of endurance.