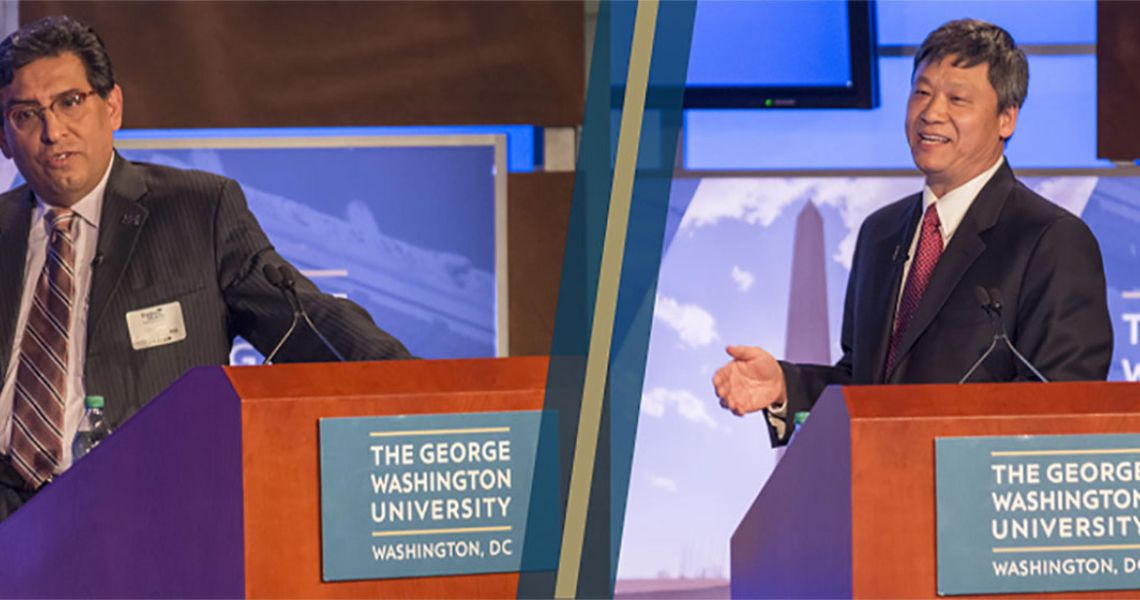 Within their respective labs, Eduardo Sotomayor, M.D., director of the GW Cancer Center and professor of medicine at the GW School of Medicine and Health Sciences (SMHS), and Edward Seto, Ph.D., professor of biochemistry and molecular medicine at SMHS, are coming closer to the pinnacle of medical research: making cancer a chronic disease, as an initial step for a cure for cancer.
As they explained at the Dec. 1 lecture of Frontiers in Medicine, a series designed to connect members of the Washington, D.C. community with renowned health experts, each step they take is changing the landscape of cancer treatments, sometimes with radical results. Their results also come with the establishment of the GW Cancer Center, over which Sotomayor presides.
"[The GW Cancer Center] will serve as a platform for future developments in cancer initiatives," said Alan Wasserman, M.D., Eugene Meyer Professor and chair of the Department of Medicine at SMHS, who served as moderator for the evening. "We expect great things and great progress in conquering cancer with the help of these two gentlemen."
Sotomayor, over the last two decades, has focused on immunotherapy and, as he said, "unleashing the power of the immune system." Simply, the immune system fights infections by producing antibodies and cells. It maintains cellular homeostasis and uses immunosurveillance to identify and destroy transformed or malignant cells. Tumors, however, have developed several mechanisms to disarm the immune system, including the use of the PDL-1 protein. "They are going to tell the immune system 'Stop. You are paralyzed. You're not going to attack,'" said Sotomayor.
What happens next, Sotomayor said, is that the tumor cells are able to manipulate "good" cells into "bad" cells. "The tumor cells are going to basically create an environment in which they're going to be protected against effective function of the immune system," he explained. "The tumor says 'I'm going to recruit or bring bad cells that are going to block immune responses.'"
In cancer immunotherapy, however, researchers can generate antibodies to bind with the tumor cell and kill it. They can also take T-cells, or T-lymphocytes, and genetically alter them to create what's known as chimeric antigen receptor (CAR) T-cells. "The idea here is to make the T-cells better in terms of recognizing tumor cells," Sotomayor explained. "So, what we are going to do is introduce something into the T-cells, and the T-cells will then be able look for, attack, and destroy cancer cells." Sotomayor points to the successful use of CAR T-cells in the case of Emma Whitehead, a then 6-year-old leukemia patient. When she received an infusion of altered T-cells, "all the leukemic cells that were in the blood disappeared," Sotomayor said. "What we are doing here is unleashing the power of the immune system." He added that, despite side effects, patients with specific types of leukemia showed a 60 to 80 percent response rate.
Currently, he said, research is focusing on checkpoint antibodies to block the proteins, either PDL-1 or PD-1. The FDA has approved two drugs, pembrolizumab and nivolumab, for treating advanced solid malignancies, such as those in melanoma and lung and renal cancers. At GW, researchers are developing therapies involving CAR T-cells, and Douglas Nixon, Ph.D., Walter G Ross Professor Basic Science Research and chair of Microbiology, Immunology, and Tropical Medicine at SMHS, is exploring microbial oncology, which involves using microbes to deliver cancer treatments.
In Seto's lab, meanwhile, advancements are ongoing in epigenetics. In explaining the basics of epigenetics - or "events that cannot be explained by simple genetic principles" - Seto refers to "good" and "bad" genes in cells; the bad genes appear in cancer cells, the good in normal cells. "How can we turn on the good genes and turn off the bad genes so that we can reverse this process?" he asked. "That's the question that we want to ask in the laboratory."
Epigenetics are reversible, and therein lies the key to altering the epigenetic landscape. Seto illustrated epigenetics as reading a sentence as "bob wait a minute you can read" versus "Bob, wait a minute, you can read!" Those adjustments in punctuation, capitalization, and formatting are analogous to the changes made to the epigenetic landscape. One technique that can turn good genes back on and change gene expression without altering DNA, is the use of histone deacetylase, or HDAC.
"Unfortunately, in many cancer cells, there's a hyper or abnormal abundance of this histone deacetylase enzyme, so many of the genes of histone proteins are being deacetylated, and this can lead to the bad genes being turned on," Seto explained, adding that by identifying the HDAC inhibitors, the bad genes will turn off and normalize. "This is one way we use laboratory science to contribute to regulating epigenetics, and as a result, regulating gene expression to bring cancer cells back to normal cells."
Both Sotomayor and Seto believe that a diverse approach - blending treatments - is the best way to targeting cancer.
"We have seen significant responses," Sotomayor said. "In the future, what we need to do is try to combine these therapies in order to get better responses, durable responses, and I think our generation will witness the cure of several types of cancer, thanks to the power of the immune system and the understanding of epigenetics. I am convinced that the GW Cancer Center will be playing a role in making this happen."