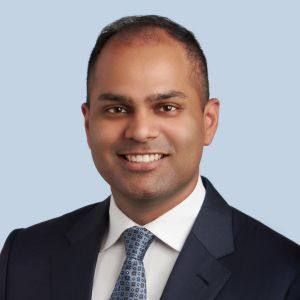 September 27, 2023 – Lekhaj Daggubati, MD, MS has joined the George Washington (GW) University Cancer Center and The GW Medical Faculty Associates as Director of Surgical Neuro-Oncology. He specializes in malignant and benign nervous system tumors, focusing on minimally invasive cranial approaches, laser interstitial thermal therapy, radiosurgery, and endoscopic neurosurgery. In addition, Dr. Daggubati is an Assistant Professor of Neurological Surgery at the George Washington University School of Medicine and Health Sciences. 
"I'm excited to join the GW family and bring my neurosurgery expertise to the team and patients at this historic institution," said Daggubati. "Incorporating innovative technology, such as our new intraoperative MRI, will help improve patient outcomes and satisfaction. GW is the only Cancer Center in the DMV with this powerful MRI technology. I aim to be accessible to all and provide the most advanced neuro-oncology care in our nation's capital."
Dr. Daggubati comes to GW from the University of Miami/Jackson Memorial Hospital, where he was a Neurosurgical Oncology Fellow under Drs. Richard Komotar and Michael Ivan. He completed accelerated undergraduate and medical school programs at Drexel University College of Medicine and his Neurosurgery residency at Penn State University Hershey Medical Center. He has a Masters in Data Sciences from Northwestern University, where he specialized in artificial intelligence.
Dr. Daggubati strives for improved patient outcomes with enhanced recovery protocols and leveraging the latest perioperative technology. He is a champion of machine learning and advanced data science technology for automated tumor localization, identifying a tumor's molecular signature, and personalized treatment recommendations in neuro-oncology.
"As a neurosurgeon and a data scientist, I merge the advances of AI with our human experience to select the best and most precise treatment therapies," said Daggubati. "It's the future, but it's here now."