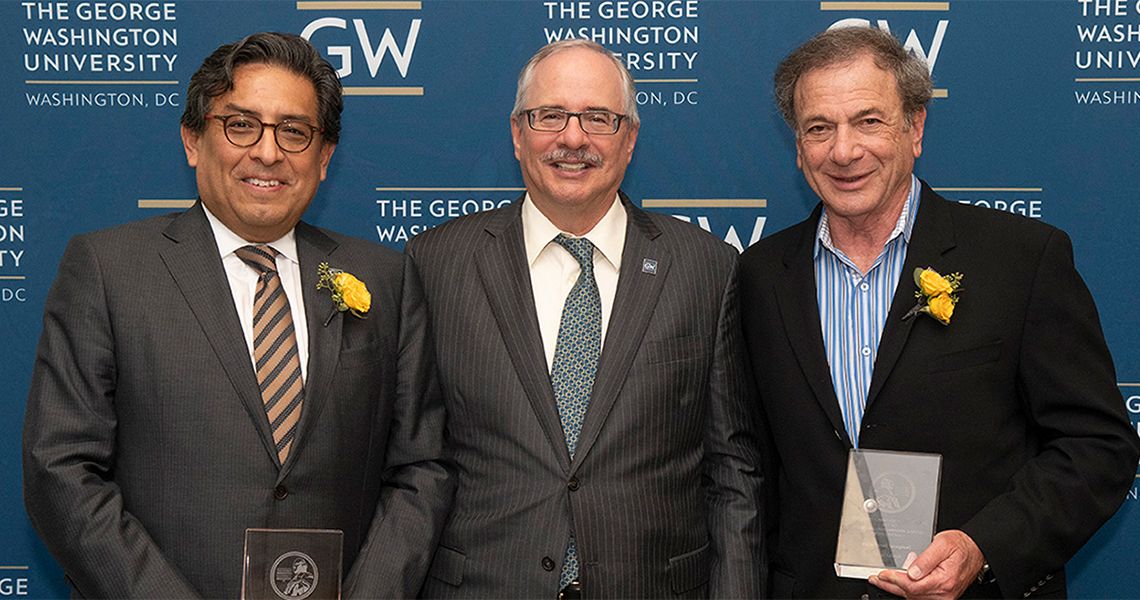 Eduardo Sotomayor, an internationally recognized visionary in the field of lymphoma research and treatment, was recently installed as the inaugural Dr. Cyrus Katzen Family Director of the George Washington University Cancer Center.
Dr. Sotomayor, who came to the university to lead the GW Cancer Center in 2015, called the endowed directorship a great honor during the installation ceremony on Tuesday. The Katzen family has a legacy of compassion for patients and their families following a cancer diagnosis, and many lives have been touched and saved by their generosity, he said.
"I am truly humbled by the support of all that are here today. Each one of us in this room plays an important role in the fight against this terrible disease," Dr. Sotomayor said. "I look forward to the journey ahead as we all together continue to fulfill the proud legacy of the Katzen family, a family that is an important part of our story here at the George Washington University."
The event featured remarks from GW President Thomas LeBlanc; Jeffrey S. Akman, vice president for health affairs, Walter A. Bloedorn Professor of Administrative Medicine Dean and dean of the School of Medicine and Health Sciences; and Jay Katzen, B.A. '67 and M.D. '72, GW alumnus and former Board of Trustee member.
Earlier this year, the GW Cancer Center announced the establishment of the Dr. Cyrus Katzen Family Director of the GW Cancer Center, thanks to a gift from Jay Katzen and the Dr. Cyrus Katzen Foundation. The Katzen family's support over the past two decades has been critical to cancer care at GW and in Washington, D.C. Their gift follows a $10 million gift made in 2008 by Cyrus and Myrtle Katzen that enabled GW to launch the Katzen Cancer Research Center, which fosters pioneering research, superior clinical care and education to improve the diagnosis, prevention and treatment of cancer.
The GW Cancer Center, which is working toward a goal of achieving National Cancer Institute (NCI) designation, has an ambitious vision of creating a cancer-free world through groundbreaking research, innovative education and equitable care for all, said Dr. LeBlanc.
"I can think of no one better qualified to lead the GW Cancer Center and to hold this endowed position than Dr. Eduardo Sotomayor," he said. "He embodies the legacy of Dr. Katzen, and we are grateful that this gift will enable Dr. Sotomayor and the university to continue and to extend the work initiated by Dr. Katzen to build a premier cancer institute at GW."
Since Dr. Sotomayor came to GW, he has made significant strides leveraging existing talent at the university and attracting new faculty hires who are working together on cutting-edge approaches, Dr. Akman said. The center is well on its way to NCI designation because of Dr. Sotomayor's commitment to excellence, he said.
Dr. Jay Katzen called the installation an important day for his family, and said the endowed directorship builds on his father's legacy at the university. Dr. Jay Katzen noted that both of his parents died from cancer, and that his family has a long history of the disease.
"We're not alone. There are hundreds of thousands of families that suffer from cancer, and we want to put an end to this disease," he said. "Dad gave this gift to GW because he knew that funding research is the only way to find a cure."
The real gift would be if GW Cancer Center researchers and clinicians are able to discover new innovations and therapies to treat cancer, Dr. Jay Katzen said.
In addition to his role leading the GW Cancer Center, Dr. Sotomayor is a professor of medicine at the GW School of Medicine and Health Sciences. His primary area of research is immunobiology and immunotherapy of B-cell malignancies, with special emphasis on the design of novel immunotherapeutic approaches for these diseases.
Dr. Sotomayor went to medical school in Universidad Nacional Federico Villarreal in Lima, Peru. After graduation in 1988, he began postdoctoral training in microbiology and immunology at the University of Miami Miller School of Medicine. He completed a residency in internal medicine at Jackson Memorial Hospital and the University of Miami Miller School of Medicine, followed by a fellowship in medical oncology at Johns Hopkins University School of Medicine.
Dr. Sotomayor has published more than 125 manuscripts, including seminal publications in leading journals. He has received numerous awards for his research accomplishments and has received continued research project grant funding during the past 15 years from the National Institutes of Health to support his basic and translational studies in cancer immunology and immunotherapy.
Dr. Sotomayor is a member of several prestigious committees, including Subcommittee A of the National Cancer Institute, which reviews the performance of all NCI-designated Cancer Centers in the United States. He is also a member of the executive committee of the Mantle Cell Lymphoma Consortium and the advisory board of the Lymphoma Research Foundation.
--
This article is posted courtesy of GW Today.