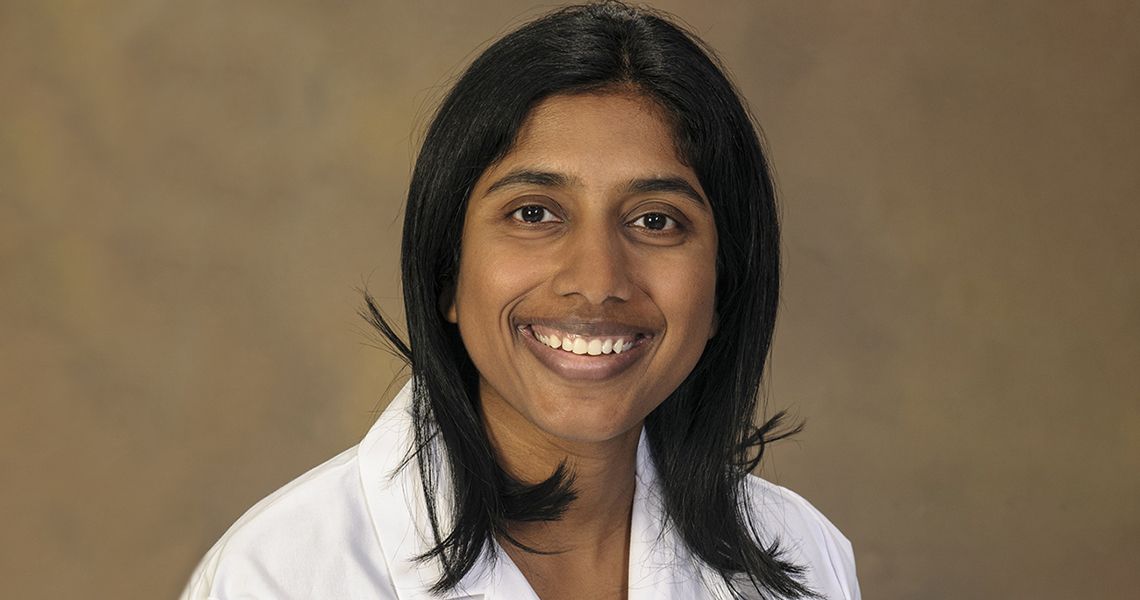 ANNOUNCEMENT (February 2023) — The GW Cancer Center is pleased to announce the appointment of Pavani Chalasani, MD, MPH, to serve as the new director of the Division of Hematology and Medical Oncology at the GW Medical Faculty Associates. She also serves as the medical director of Inpatient Hematology/Oncology and leader of the GW Cancer Center Breast Cancer clinical research team. Chalasani joined GW in February 2023.
As the division director, Chalasani directs the hematology/oncology practice, including medical oversight and leadership for ambulatory and hospital-based hematology/oncology services, expanding access for the diverse patient population served by GW.
Chalasani works across GW Cancer Center Research Programs with the goal of developing translational and investigator-initiated trials. She oversees breast cancer clinical trial operations, and is curating the breast care clinical trial portfolio, aiming to increase cancer-focused grant funding, particularly NCI and NIH funding, including multi-PI grants. Additionally, she provides leadership, mentorship, and oversight of the Division's training programs including the Hematology/Oncology fellowship program, and is focusing on improved programmatic diversity, clinical investigation, and academic career placement.
Chalasani joined GW from the University of Arizona Cancer Center, where she served as an assistant professor specializing in breast cancer and providing guidance to patients on treatment decisions regarding hormonal therapy (anti-estrogen therapy), chemotherapy, and second opinions. She also served as the director of the University of Arizona Hematology and Medical Oncology Fellowship Training Program in the Division of Hematology and Oncology at the University of Arizona Department of Medicine and University of Arizona Cancer Center.
Her key research interests are in the development of biomarkers- imaging, blood based or tissue. She served as the Principal Investigator on several industry sponsored, and co-operative group protocols, and Principal Investigator for several investigator-initiated trials and received research funding from NIH/NCI, American Cancer Society, Better Than Ever and The University of Arizona Cancer Center-pilot funding mechanism.
Dr. Chalasani completed her medical school at Gandhi Medical College in India and completed her Internship, Residency and Fellowship in Hematology-Oncology at the University of Arizona.