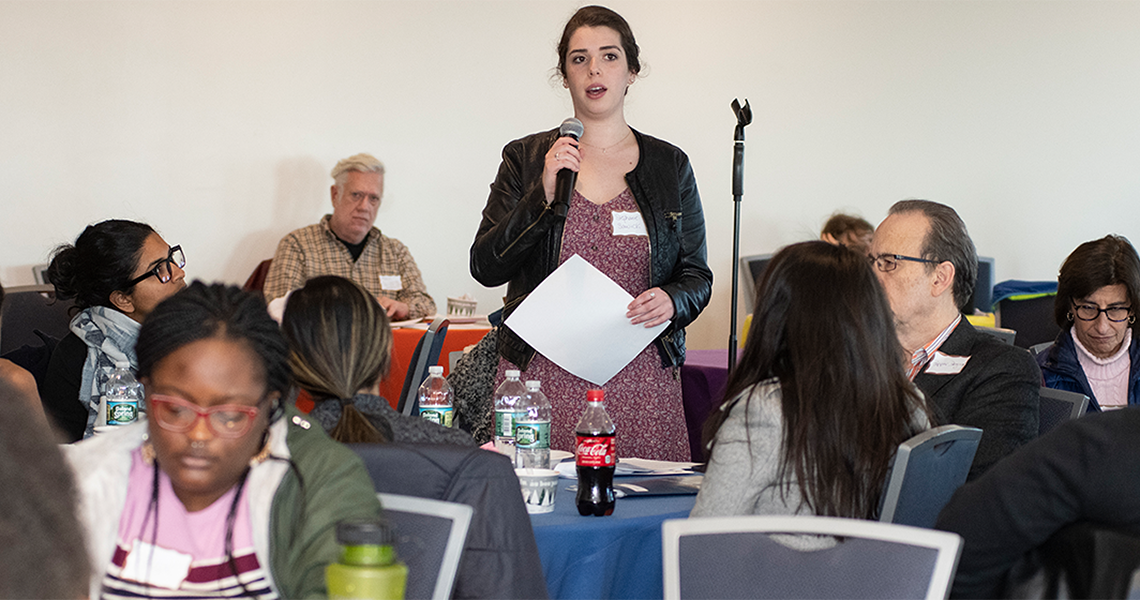 The George Washington University (GW) Cancer Center recently hosted Improving Care for Sexual and Gender Minorities: A Symposium for Health Care Professional Students and Faculty at the Elliott School of International Affairs. More than 40 students, faculty, patients and researchers from across the university gathered for this all-day event to learn about the unique health care needs of sexual and gender minorities as well as resources for incorporating LGBTQ+ health into coursework and practice at GW. The event was hosted by the GW Cancer Center with funding provided by the GW School of Medicine and Health Sciences Center for Faculty Excellence.
Highlights from the event included:
A keynote lecture on trauma-informed care for LGBTQ+ patients by Kristen Eckstrand, MD, PhD, a fellow in Child and Adolescent Psychiatry at the Western Psychiatric Institute and Clinic of the University of Pittsburgh Medical Center
Game show icebreaker for participants to learn some basic LGBTQ+ health facts and figures
Breakout sessions on challenging LGBTQ+ health cases and a role play activity to learn how to respond to insensitive behaviors from colleagues
One participant said, "This was an absolutely amazing event." Another said, "I learned a lot and can't wait to incorporate my learnings into practice." A third participant said, "I think anyone who is going to practice medicine needs to attend this event." Attendees drafted personal action plans to improve care for sexual and gender minorities and heard directly from a panel of patients who are members of the LGBTQ+ community. Several D.C.-based community organizations including the Human Rights Campaign, the DC Center and Whitman-Walker Health also offered their perspectives and resources to attendees.
"This event was intended to fill known gaps in health care curricula at GW specific to the needs of sexual and gender minority patients," said Mandi Pratt-Chapman, associate center director for patient-centered initiatives and health equity at the GW Cancer Center. "Much work remains to be done to integrate curricula that prepares health professional students to care for sexual and gender minorities."
###
About LGBTQ+-Affirming Care and the GW Cancer Center
Washington, D.C. has the highest LGBTQ+ population per capita in the country when compared to U.S. states. This unique population experiences disproportionately high rates of cancer and poorer cancer outcomes. A top priority for the GW Cancer Center is health equity for LGBTQ+ individuals. We aim to become the cancer center of choice for LGBTQ+ patients, providing high quality, affirming cancer care.
The GW Cancer Center is a collaboration of the George Washington University, the GW Hospital and the GW Medical Faculty Associates to expand GW's efforts in the fight against cancer. The GW Cancer Center also incorporates all existing cancer-related activities at GW, with a vision to create a cancer-free world through groundbreaking research, innovative education and equitable care for all. Learn more about the GW Cancer Center at gwcancercenter.com.