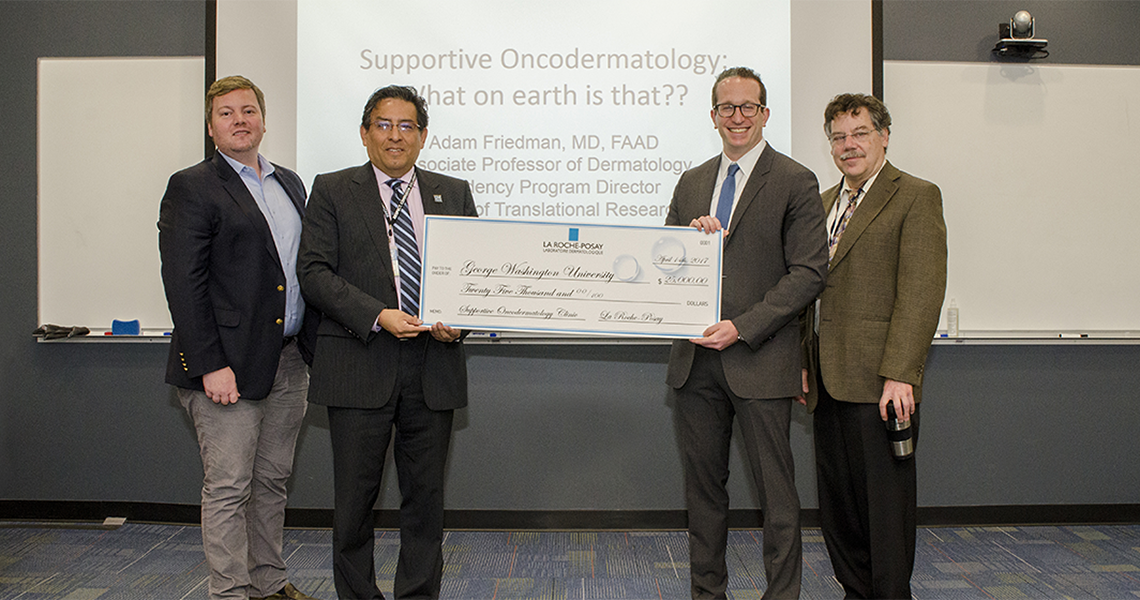 WASHINGTON (June 15, 2017) - The George Washington University (GW) Cancer Center is pleased to announce the opening of the Supportive Oncodermatology Clinic. This clinic is the only one of its kind in the Washington, D.C. region, and one of only a handful of such clinics in the country.
The clinic will support patients during their cancer treatment to prevent and reduce common side effects, such as hair loss, severe skin rashes, skin infections, brittle nails, and dry skin, of chemotherapy and the array of new targeted therapies. The clinic will also support cancer survivors who suffer from established persistent side effects from these medications, even months to years after treatment, as well as provide diligent skin cancer surveillance as these patients are at higher risk.
"The skin, hair, and nail side effects of these life-prolonging and saving therapies can have a tremendously negative impact on patients' treatment course, so much so that it can push them away from continuing or even seeking the treatment they need. There is clearly an unmet need for patients here," said Adam Friedman, MD, director of the clinic and associate professor of dermatology at the GW School of Medicine and Health Sciences. "We are discovering preventive strategies that can be initiated before treatment starts to limit or prevent complete hair loss, the painful thickening and fissuring of the hands and feet, and even the loss of fingernails, in addition to effectively treating skin reactions as they erupt during therapy. Our clinic will have a tremendous impact on the quality of life of cancer patients in the region."
Side effects on the skin can sometimes be so severe that oncologists and patients decide to halt treatment. For example, one side effect of taxane chemotherapies is a syndrome coined "PATEO," which results in inflammation of the hands and around the joints plus the peeling back of the nails. PATEO can be so severe, patients are unable to walk, hold a pencil, or take medication. Having an oncodermatologist as part of the cancer care team is critical in giving patients the best care possible.
"In addition to active treatment and prevention, we want to educate patients," said Friedman. "We want to give patients a tailored approach and make them part of the care team when it comes to these issues."
The new clinic was launched in part thanks to support from La Roche-Posay.
To learn more about the Supportive Oncodermatology Clinic at the GW Cancer Center, call 202-741-2600 or visit https://cancercenter.gwu.edu/for-patients/specialty-clinics/supportive-oncodermatology-clinic.
###
About the GW Cancer Center
The George Washington University (GW) Cancer Center is a collaboration between the GW Hospital, the GW Medical Faculty Associates, the GW School of Medicine and Health Sciences, and the Milken Institute School of Public Health at GW to expand GW's efforts in the fight against cancer. The GW Cancer Center also incorporates all existing cancer-related activities at GW, serving as a platform for future cancer services and research development. Learn more about the GW Cancer Center at gwcancercenter.org.