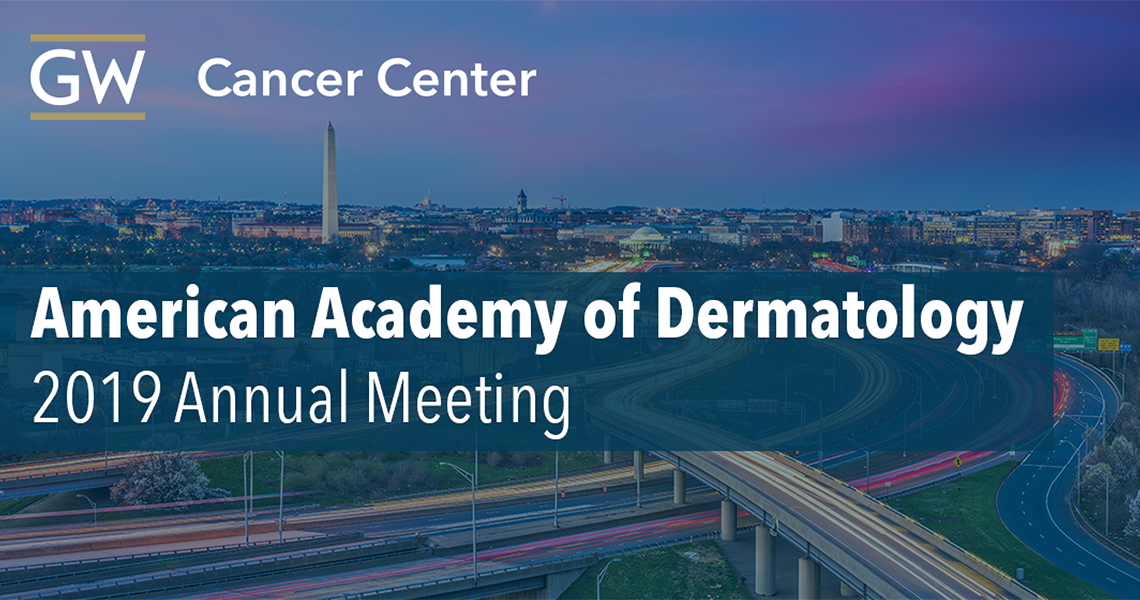 The George Washington University (GW) Cancer Center and the GW School of Medicine and Health Sciences (SMHS) will have a large presence at the upcoming American Academy of Dermatology Association (AAD) Annual Meeting. The meeting will be held at the Walter E. Washington Convention Center in Washington, D.C., March 1-5.
AAD is the largest, most influential dermatology group in the United States. With a membership of more than 20,000, it represents virtually all practicing dermatologists in the U.S., as well as a growing number of international dermatologists.
The weekend will feature a series of lectures, including those from Adam Friedman, MD, director of the Supportive Oncodermatology Clinic at the GW Cancer Center and interim chair of the Department of Dermatology at SMHS, on topics such as evidence-based cosmeceuticals and treating tumors and inflammatory skin diseases with immunomodulators and biologics.
Vishal Patel, MD, director of the Cutaneous Oncology Program at the GW Cancer Center and assistant professor of dermatology at SMHS, will speak about volunteering abroad and the International Immunosuppression and Transplant Skin Cancer Collaborative. A. Yasmine Kirkorian, MD, assistant professor of dermatology at SMHS, will discuss rashes on pediatric patients. Faculty members will also serve on several committees throughout the conference.
Dermatology residents from SMHS will participate in the highly competitive gross and microscopic symposia on March 1 and 2, and several residents and faculty will present posters.
The meeting will also include the presentation of the 2019 AAD Advocate of the Year award. This year's recipient is Kelley Redbord, MD, associate clinical professor of dermatology at SMHS. Redbord was nominated by her peers in recognition of her commitment to grassroots advocacy at federal and local levels on issues such as indoor tanning, sun safety public education, and sunscreen access in schools. She also is recognized for her leadership in AAD grassroots advocacy through the Grassroots Advocacy Workgroup, SkinPAC, the State Policy Committee, the Congressional Policy Committee, and the Government Affairs and Health Policy Council.
Redbord will be formally recognized Thursday, Feb. 28 at the SkinPAC Reception.
For the full AAD Annual Meeting agenda, visit www.aad.org/scientificsessions/am2019/