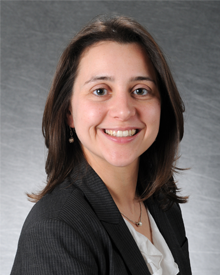 WASHINGTON (Feb. 23, 2016) - The GW Cancer Center is pleased to announce Mandi Pratt-Chapman, a national leader for patient navigation and cancer survivorship policy and training, has been tapped to serve as the Associate Center Director (ACD) for Patient Centered Initiatives and Health Equity. In this role, Pratt-Chapman will serve on the senior leadership team for the newly-formed GW Cancer Center, leading national research on patient-centered care and integrating research into practice. One of her main functions will be the creation of an exemplary patient support services program, which will build on programs that she developed during the past several years as director of the GW Cancer Institute. She will also enhance community relationships and research relevance to the local community and maintain a portfolio of sponsored projects related to patient-centered care and health equity.
"We are thrilled that Mandi has enthusiastically accepted to take on this role. She has proven that she is a leader and her expertise will help guide the GW Cancer Center in this important area. Providing for the patients of the Washington, D.C. region is at the heart of what we are doing at GW and I am confident that with Mandi's leadership in the area of Patient Centered Initiatives and Health Equity, we will be able to increase our ability to be a resource for our community and our patients," said Eduardo M. Sotomayor, Director of the GW Cancer Center.
Pratt-Chapman will also work closely with other ACDs, including the ACD for Population Sciences & Policy and the ACD for Clinical Investigations, to build team science to improve the quality and equity of cancer prevention, care access and delivery. She will also work to build a culture of quality improvement and community engagement and support greater access to clinical trials at GW Cancer Center.
"I am honored to be selected for this important role within the GW Cancer Center. I am proud of the work that we've already been able to do at the GW Cancer Institute and I look forward to continuing to serve our community with the highest quality of patient support that we can provide," said Pratt-Chapman, who will continue to oversee the staff and activities of the GW Cancer Institute. "I'm looking forward to working with my colleagues to make GW the cancer center of choice for all the members of our community and in particular for those with unique needs, such as our LGBT population. This is an area we can lead the nation in addressing a substantial unmet need."
Pratt-Chapman joined GW's cancer efforts in 2008 and became the director of the GW Cancer Institute in 2013. She is a founding director and the driving force of several Institute initiatives that have had a lasting and profound impact on the national landscape for patient navigation and cancer survivorship policy and training, including the Division of Cancer Survivorship and the Center for the Advancement of Cancer Survivorship, Navigation and Health Policy. She served as the co-founding director of the National Cancer Survivorship Resource Center, in partnership with the American Cancer Society. She also serves as an adjunct instructor in the Department of Clinical Research and Leadership.
She is an integrated member of the cancer community and serves in leadership positions for leading cancer organizations, including serving as Chair of the Association of Community Cancer Centers guideline revision process and Chair of the patient navigation certification process for the Academy of Oncology Nurse and Patient Navigators.
She is a widely published author in prestigious journals of her specialty, including CA, A Journal for Clinicians; the Journal of Community Health; the Journal of Oncology Navigation & Survivorship; and the Association of Community Cancer Centers Oncology Issues - among other journals. She has also published numerous book chapters and abstracts, as well as commentaries on issues related to navigation, survivorship and cancer policy and is a regular contributor to local and national news stories on these topics.
Pratt- Chapman regularly presents at local, national, and international meetings and has been recognized with numerous honors and awards, including being named as a Union for International Cancer Control Young World Cancer Leader at the 2015 World Cancer Summit that was held in Istanbul, Turkey.
Pratt-Chapman began in this role in January 2016.