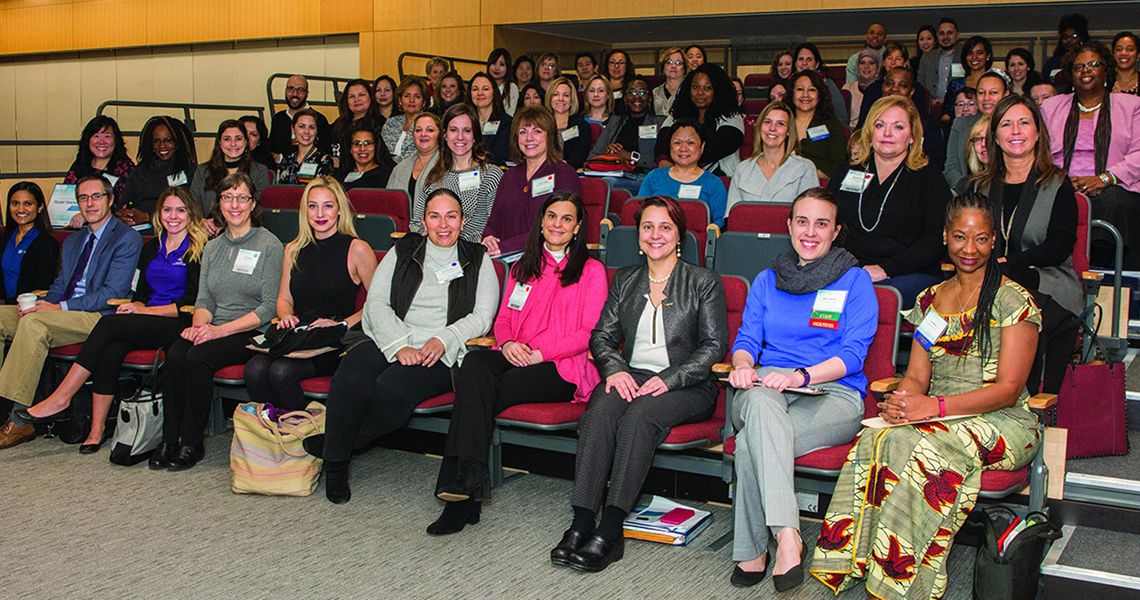 WASHINGTON (February 22, 2018)-The George Washington University (GW) Cancer Center recently welcomed 24 multidisciplinary health care teams from across the country to its inaugural TEAM (Together, Equitable, Accessible, Meaningful) Training program. The two-and-a-half day program was the culmination of a multi-phase online and in-person education program intended to help individual health care organizations implement quality improvements regarding patient-provider communication, cultural sensitivity, health literacy, and shared decision-making.
Nationally renowned faculty and subject matter experts discussed how to support health equity, patient engagement and culturally affirming cancer care. Keynote speaker Camara Jones, MD, MPH, PhD, past president of the American Public Health Association and senior fellow at the Satcher Health Leadership Institute, Morehouse School of Medicine, spoke on how social determinants of health and health equity can impact patients' health outcomes. Tamika Felder, founder and president of Cervivor, a nonprofit cervical cancer awareness and support organization, discussed the need to support patient engagement in clinical care.
"When we were awarded funding from the Pfizer Foundation in 2016 to develop a project focused on reducing cancer disparities, we conducted extensive formative research with patients and providers to find out where the gaps are when it comes to patient-provider communication," said Mandi Pratt-Chapman, MA, associate center director for patient-centered initiatives and health equity at the GW Cancer Center. "This workshop is the culmination of many months of learning for these teams and we're hopeful that the insights they gain will result in real positive changes as they return to their home institutions."
Each team identified a specific target population for whom they wished to improve cancer care. Teams chose to improve care for sexual and gender minority cancer patients, African American and Hispanic patients, Asian subpopulations, and immigrants-all of whom come with unique culture considerations for care.
"The GW Cancer Center is committed to advancing the health of sexual and gender minority patients," said Eduardo M. Sotomayor, MD, director of the GW Cancer Center. "Programs like TEAM represent a significant opportunity for institutions across the country to address inequities in health care that continue to challenge racial, ethnic, sexual and gender minority cancer patients."
The training, funded by the Pfizer Foundation, is a unique, multi-phase project that includes development of patient resources as well as provider training to improve health outcomes for all individuals affected by cancer. Before arriving in D.C., participants completed an online training covering a variety of topics including how to engage patients and their loved ones in shared decision-making, increasing minority patient representation in cancer research, supporting patient self-advocacy and enacting culture change to support the provision of culturally affirming care.
Participants left the in-person training with action plans informed by one-on-one feedback from subject matter experts. "It was a wonderful, inspiring experience to be part of the TEAM training," said Kristy Biswas, MA, BSN, RN, CHC, CHPC, Vice President of Clinical Services for New Jersey Urology, "I can't wait to see what all of our groups can accomplish." Learn more about the TEAM training and inaugural cohort.
###
About the GW Cancer Center
The George Washington University (GW) Cancer Center is a collaboration of the George Washington University, the GW Hospital and the GW Medical Faculty Associates to expand GW's efforts in the fight against cancer. The GW Cancer Center also incorporates all existing cancer-related activities at GW, with a vision to create a cancer-free world through groundbreaking research, innovative education and equitable care for all. Learn more about the GW Cancer Center at gwcancercenter.org.