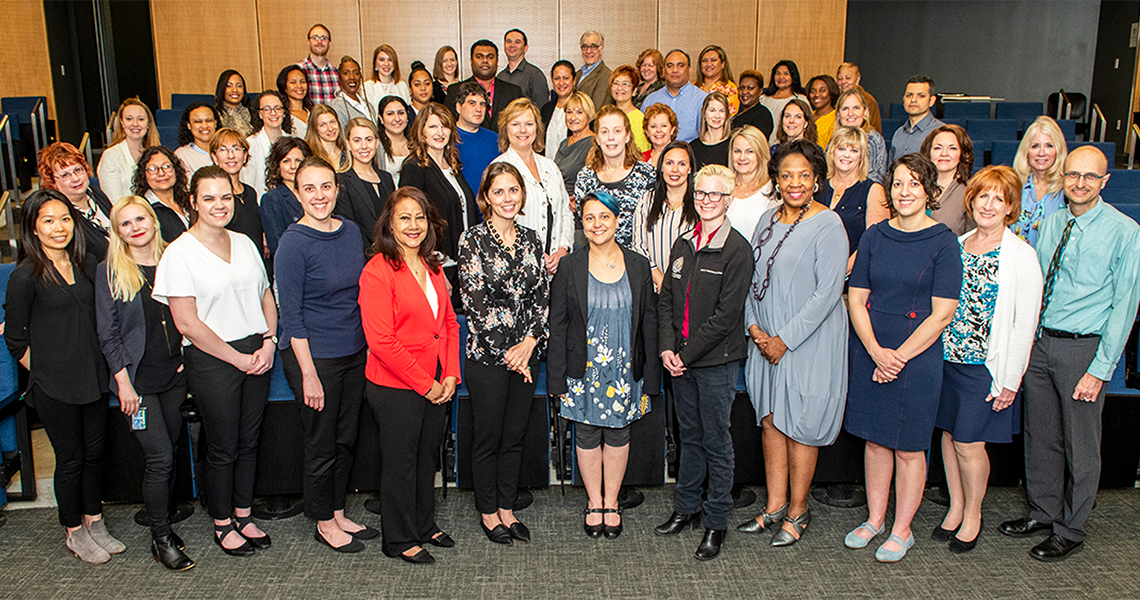 WASHINGTON (April 30, 2019)-The George Washington University (GW) Cancer Center recently welcomed 12 multidisciplinary health care teams from across the U.S. and territories to its second TEAM (Together, Equitable, Accessible, Meaningful) Training program. The two-and-a-half day program was the culmination of a multi-phase online and in-person education program intended to improve health equity by supporting organizational changes at the systems level. The training is intended to help organizations implement quality improvements to advance equitable, accessible and patient-centered care through improved patient-provider communication, cultural sensitivity, shared decision-making and attention to health literacy.
Experienced faculty and subject matter experts discussed culture and medicine, using data to find and address disparities, and a multi-tiered approach to creating organizational buy-in. Another key component of the training was hearing directly from patients about their experiences and perspectives on engaging in patient-centered care.
Faculty, subject matter experts and speakers for the training included:
Cathy Bledsoe, MPH, Co-Founder, One Health Insights
Kristen Eckstrand, MD, PhD, Fellow in Child and Adolescent Psychiatry, Western Psychiatric Institute and Clinic of the University of Pittsburgh Medical Center
Ivis Febus-Sampayo, Senior Director of Programs, SHARE
Marlaine Figueroa Gray, PhD, Assistant Investigator, Kaiser Permanente Washington Health Research Institute
Mandi Pratt-Chapman, MA, PhD(c), Associate Center Director for Patient-Centered Initiatives and Health Equity, GW Cancer Center
Randi Rycroft, MSPH, CTR, Registry Manager, Cancer Data Registry of Idaho
Aubrey Villalobos, MPH, Med, DrPH(c), Director of Cancer Control and Health Equity, GW Cancer Center
Sherrie Flynt Wallington, PhD, Assistant Professor, GW School of Nursing, Milken Institute School of Public Health at GW
A major activity of the training was developing, refining and finalizing action plans. Technical assistance sessions provided the opportunity for teams to draft their plans and receive feedback from subject matter experts and peers.
Examples of submitted action plan goals:
Work with clinics to tailor evidence-based interventions to increase breast and cervical cancer screening rates among priority populations.
Increase Spanish speaking patient and family utilization of supportive resources and services available by May 2020 by leveraging the interpreter ambassador role.
Increase breast cancer screening for women over the age of 45.
Upon returning to their home organization, teams will put learning into practice as they present their action plan to stakeholders and implement.
The training, funded by the Pfizer Foundation, is a unique, multi-phase project that includes development of patient resources as well as provider training to improve health outcomes for all individuals affected by cancer. Before arriving in D.C., participants completed an online training covering a variety of topics including how to engage patients and their loved ones in shared decision-making, increasing minority patient representation in cancer research, supporting patient self-advocacy and enacting culture change to support the provision of culturally affirming care.
Learn more about the TEAM training and second cohort.
###
About the GW Cancer Center
The George Washington University (GW) Cancer Center is a collaboration of the George Washington University, the GW Hospital and the GW Medical Faculty Associates to expand GW's efforts in the fight against cancer. The GW Cancer Center also incorporates all existing cancer-related activities at GW, with a vision to create a cancer-free world through groundbreaking research, innovative education and equitable care for all. Learn more about the GW Cancer Center at gwcancercenter.com.