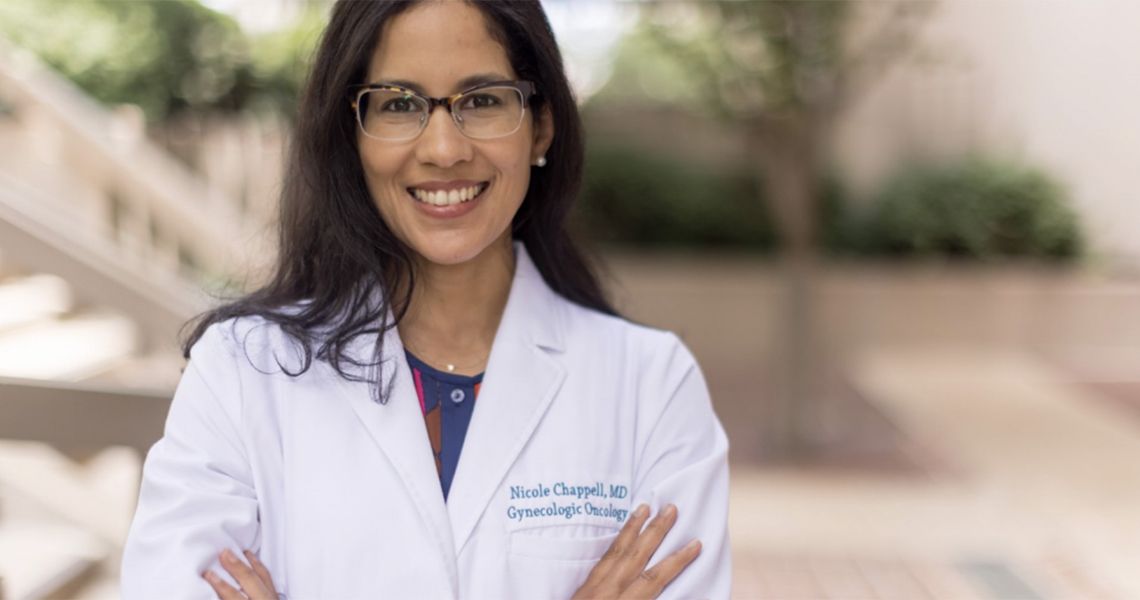 September is Ovarian Cancer Awareness Month, a timely reminder for women, particularly those age 60 and older, to take stock of their health. Ovarian cancer, according to the American Cancer Society (ACS), is the deadliest of all female reproductive cancers and ranks fifth in cancer deaths among women. The news is not all bad, the ACS notes; rates of diagnosis have been slowly declining over the last 20 years. Here, Nicole Peña Chappell, MD, gynecologic oncologist at the George Washington University (GW) Medical Faculty Associates, advises what signs and symptoms to look out for and outlines what diagnosis and treatment looks like.
Q. What should people know about ovarian cancer?
Chappell: In general, ovarian cancer is a relatively rare cancer. The risk of developing ovarian cancer among the general population is less than 2%. However, for certain patients, the risk is higher if they have inherited a gene that makes them more susceptible to the disease. Information and knowledge of one's family medical history can definitely help with prevention strategies and early diagnosis in patients who have inherited certain high-risk genes, such as BRCA1/2.
Q. Who is at greatest risk of developing ovarian cancer?
Chappell: In general, the risk of ovarian cancer for everyone increases with age, mainly after menopause. Patients with a family history of ovarian cancer, fallopian tube cancer, primary peritoneal cancer, and/or premenopausal breast cancer, or those with a personal history of premenopausal breast cancer, are considered high-risk. In addition, a family history of colon and endometrial cancers are risk factors that deserve investigation for possible hereditary risk of cancer.
Q. What are the signs of ovarian cancer?
Chappell: There are several persistent signs and symptoms that are common among women with ovarian cancer. The most concerning symptoms include pelvic or abdominal pain, bloating, difficulty eating, or the sensation of quickly feeling full. Urinary frequency also can occur due to an ovarian tumor exerting pressure on the bladder. Women with ovarian cancer have been found to report a combination of these symptoms, and noting them early and seeking medical evaluation is key in diagnosing ovarian cancer.
Q. How is ovarian cancer diagnosed?
Chappell: In general, when a woman experiences these symptoms for more than a few weeks, prompt evaluation with a gynecologist is warranted. A pelvic exam and a general physical exam should be performed. If the results are abnormal, the doctor may order a pelvic ultrasound to evaluate the ovaries. If the pelvic ultrasound is abnormal, additional radiographic studies such as a CT scan and a blood test for the CA 125 tumor marker should be performed. The tumor marker is abnormally elevated in up to 50% of stage 1 ovarian cancer cases and in approximately 80% of advanced stage cases. Unfortunately, CA 125 is not specific to just ovarian cancer; it can be elevated for many non-cancer related reasons. If imaging findings and/or blood test results are abnormal, a patient should be referred to gynecologic oncology for further evaluation.
Q. How do you treat ovarian cancer?
Chappell: When ovarian cancer is diagnosed, the first step is determining the stage to best outline a treatment plan. The primary treatment is typically a combination of surgery and chemotherapy. However, the exact approach may vary depending on the stage, grade, and subtype of ovarian cancer identified.
Q. Is ovarian cancer preventable? Can you do anything to keep yourself cancer-free?
Chappell: Certain risk-reduction strategies for women include maintaining a healthy body weight, regular physical activity, and a healthy diet. Nutrition experts generally recommend avoiding high-sugar food and drinks. In addition, a plant-based diet has been shown to help protect the cells in the body from damage. Therefore, a diet focused on high intake of vegetables, fruits, whole grains, beans, and nuts, with more limited intake of processed meats, is advised.
More specific to ovarian cancer, we also have found that pregnancy, the use of birth control pills, and opportunistic removal of fallopian tubes in women who no longer plan to have children all decrease the risk of ovarian cancer. Regular check-ups for routine health care maintenance with your gynecologist is also an important step to ensure any changes or concerns are addressed promptly.
Q. How does GW care for patients with ovarian cancer?
Chappell: At the GW Cancer Center, we have a treatment team that focuses on best practices for ovarian cancer care and individualized treatment plans for our patients. If we suspect or diagnose ovarian cancer, I routinely proceed with minimally invasive surgery to assess the extent of the disease and determine which would benefit the patient most, primary surgery - with the removal of all visible tumors - or starting treatment with chemotherapy. In addition, I work closely with our pathology team to obtain molecular testing of the tumor to help guide personalized treatment plans and future therapies. We also collaborate with our genetics team to offer genetic testing to all of our patients who have been diagnosed with ovarian cancer.
To make an appointment with an OB/GYN or gynecologic oncologist, please visit the GW MFA Obstetrics and Gynecology, Gynecologic Oncology, or the GW Cancer Center.