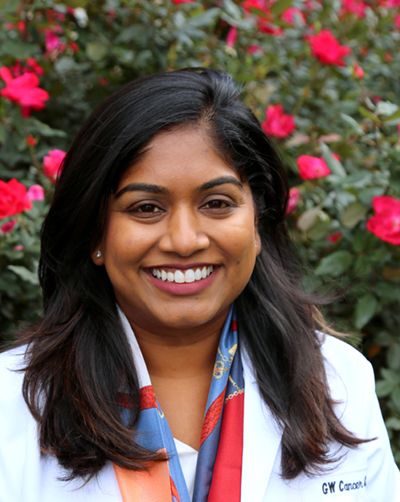 October 26, 2023 – Jennifer Vaz, MD, joined the George Washington University (GW) Cancer Center and the GW Medical Faculty Associates as a Gynecological Oncologist. She specializes in malignant and benign tumors of the pelvis, including ovarian, uterine, cervical, and vulvar/vaginal malignancies. Additionally, Vaz has extensive surgical experience in both laparoscopic and da Vinci robotic minimally invasive techniques. She completed training in gynecologic oncology clinical trials and administers both chemotherapy and immunotherapy. Vaz is an assistant professor of obstetrics and gynecology at GW's School of Medicine and Health Sciences.
"I'm excited to join the GW Cancer Center and bring my gynecologic oncology expertise to the team and patients at this great institution," said Vaz. "My goal is to provide comprehensive cancer care that is accessible to all patients in the DMV."
Vaz comes to GW after completing a fellowship in gynecologic oncology at the Medical College of Georgia. She completed her residency in Obstetrics and Gynecology at INOVA Fairfax Hospital in Falls Church, Virginia. She earned her medical degree from the Medical College of Virginia in Richmond and is a former AmeriCorps volunteer.
Vaz has authored numerous research papers in peer-reviewed publications and has presented at national conferences. Her interests include immunotherapy and its therapeutic role in offering personalized treatment plans, in addition to medical education.
"As a gynecologic oncologist, it is a privilege to be part of a patient's care team," said Vaz. "I look forward to working with colleagues at the GW Cancer Center to provide quality care to patients."