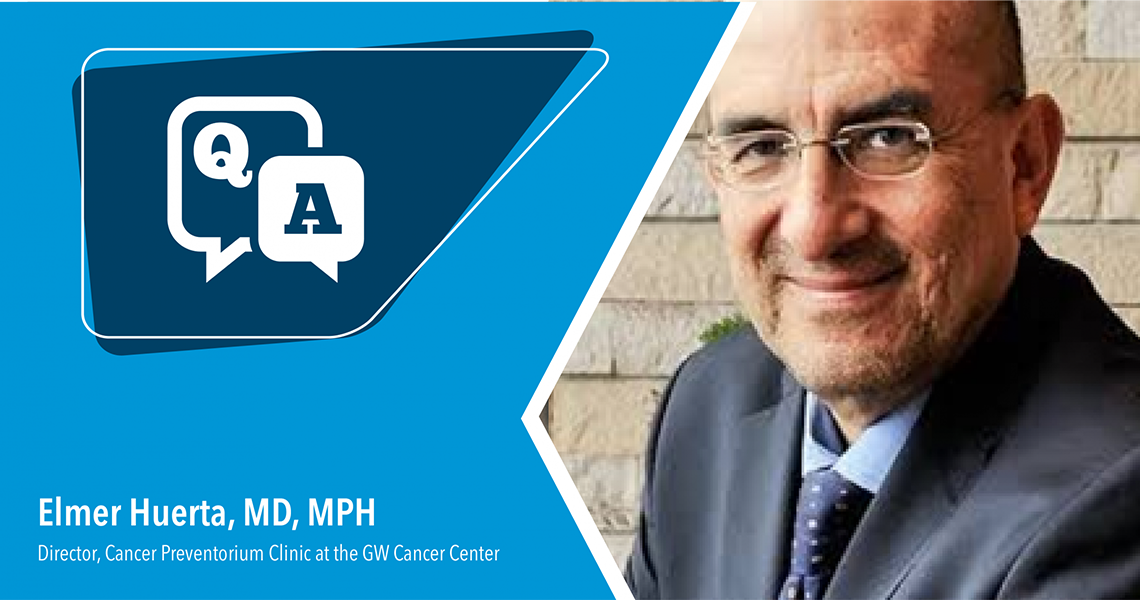 More than 30 years ago in Lima, Peru, Elmer Huerta, MD, MPH, newly established director of the Cancer Preventorium Clinic at the George Washington University (GW) Cancer Center and clinical professor of medicine at the GW School of Medicine and Health Sciences (SMHS), entered the emergency room to find a patient in need of his help.
The woman, only in her 40s, had advanced stage cervical cancer and was losing a large amount of blood. Huerta couldn't imagine how her illness had gotten to such an advanced stage unchecked. He asked her why she came to the hospital so late, and whether she ever had a pap smear. Then he asked, "Do you know what a pap smear is?"
She asked if it was the procedure where a doctor swabs a patient's throat to diagnose infection. "I remember clearly that answer gave me chills," Huerta recalled, "I said 'my god, she doesn't know.' "
Huerta started to exam the woman, a painful procedure. He asked her about a popular soap opera, "Simplemente Maria," to distract her from the pain; she told him the entire plot. "In that moment my life completely changed," Huerta said. "I said 'how is it possible that in this society people know all about soap operas and entertainment, but they don't know about health?' "
Three decades later Huerta is an internationally recognized medical oncologist and epidemiologist, as well as one of the most trusted voices in the Latin American community when it comes to cancer prevention and control. He will continue to grow and expand those roles with the Cancer Preventorium at the GW Cancer Center.
Q: How did that experience in Lima lead you to the idea of the Cancer Preventorium?
Huerta: When I came to the United States I trained as a fellow at Johns Hopkins in leukemia. But when I arrived, the chair of the department told me I would spend two months in the school of public health before starting at the leukemia center. That experience sold me on public health, and when I came back to the doctor I said 'I want to do public health, the public health of cancer.' I finished out the year with him and then went on to the National Institutes of Health, the only place in 1989 for training in cancer prevention and control. … By 1994 I was hired by the Washington Hospital Center. I told them my plan to build a clinic for low-income people, especially for Latinos, who can pay cash. I said there would only be one condition for people who wanted to come see me: they had to be free of symptoms and want to be there for cancer prevention, screening and education.
In the beginning, I was asked "who's going to pay for that, how is it going to work?" I showed them I had a big following already through my radio show, and the clinic was a success. In the first two weeks we filled appointments for almost six months and were never shy of patients. We saw 38,000 people in 25 years.
Q: You've used your radio show for many years to reach out to and educate patients. Why that platform?
Huerta: Radio is a very powerful platform in Latino communities. In many immigrant communities - the Ethiopian community, the Korean community, the Latino community - they rely on the radio to get news of their homelands, they depend a lot on the radio.
My show, on Radio America, has been on the air for almost 30 years. It airs every day from 1 to 2 p.m. I start the show with music and poetry. I have listeners from 21 countries and they are so different. The commonalities between Argentineans and Mexicans and Salvadorians is only the language, because culturally speaking they are very different … so music and poetry puts all of my listeners on the same plane. I start the show with comments on health care and then I take calls from listeners with questions and I help to guide them. I don't provide a diagnosis, but guide them about how they can talk to their doctors or approach their health, and they just love the show.
Q: What about cancer prevention when it comes to heath disparities, especially in D.C.?
Huerta: When I was at the Washington Hospital Center, we found that the rates of advanced breast cancer were 22.4%, double the national average. When we went to find out who was most impacted, we found that 90% were African American and most of them lived in Ward 5, where the hospital is, and in Wards 7 and 8. Almost all those patients had access to care and health insurance, so it was not a problem of access, it was education. … So, I started a program called Cancer Prevention in the Neighborhood, and we hired community health workers and trained them in cancer prevention for breast and colorectal cancer. They went into the community to give educational talks and do cancer screening. Now that I am at GW, I'd love to work with colleagues across the Cancer Center to continue and even expand this program.
Q: What are your plans for the Preventorium here at GW?
Huerta: The goals of the Preventorium have always been focused on education and outreach, cancer screening and education, and patient navigation, and I want to continue that here. The Cancer Preventorium is a wonderful place where you can study issues about cancer knowledge, attitudes and behaviors, about early detection, and about public health. For example, studies on nutrition and obesity and the relationship between obesity and cancer. I also want the opportunity to study what motivates people who are low income, have no insurance, and little English language skills, for them to pay for cancer prevention. How can we explain to people who don't have symptoms of an illness to pay two days of work to seek prevention and early detection?
The Preventorium also is a laboratory to study different aspects of behavioral health and access to health care, and I'm hoping to get the support of the Milken Institute School of Public Health at GW and SMHS in those efforts. In addition, clinical trials are very important. I have used my radio show to do recruitment with relative success. One thing I want to do here is use the radio to reach people and create a clinical trials program for Latinos - and for not only cancer, but trials for other health conditions.