Anne-Laure Papa, PhD, Assistant Professor of Biomedical Engineering at the GW School of Engineering and Applied Science and member of the Cancer Engineering and Technology Research Program at the GW Cancer Center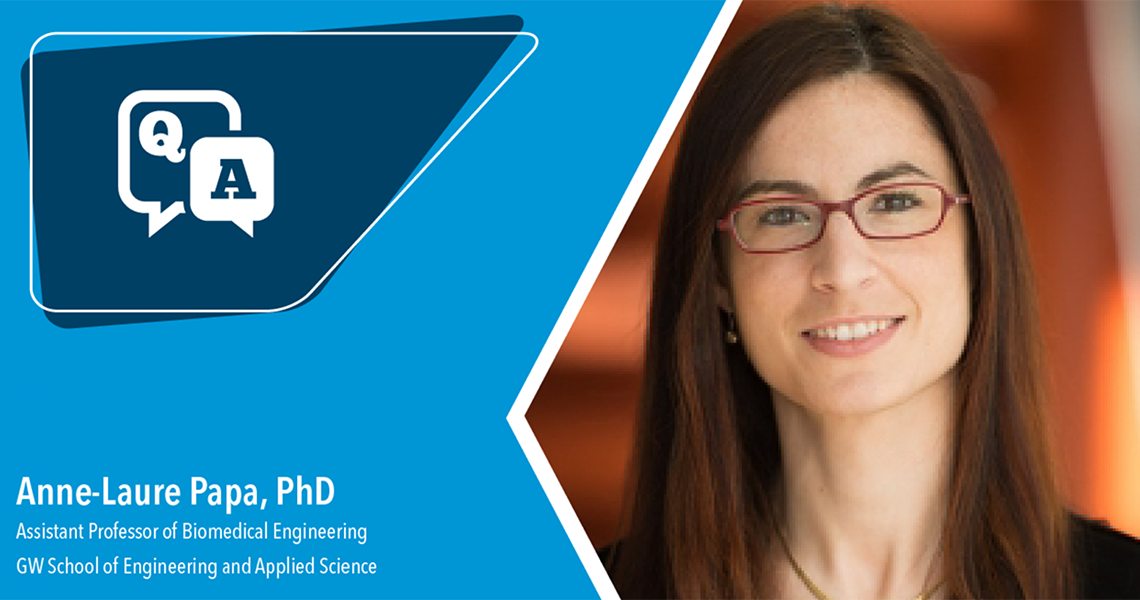 Dr. Papa is an expert in engineering novel therapeutic platforms at the intersection of chemistry, biology and medicine. Her work in the School of Engineering and Applied Science focuses on disease processes, particularly in cancer and vascular diseases, with the goal of designing targeted therapies and new diagnostic methods.
What brought you to GW?
George Washington is a dynamic University that concentrates many specialties. I am particularly interested in the crossroads of Biomedical Engineering, Biology and Medicine, which confers a perfect incubator for collaborations at GW. The proximity with the GW hospital and physicians is also essential and instrumental in discussing current needs in patient populations. I believe in both a multidisciplinary and creative approach to tackle the new and old challenges we currently face in medicine.
How did you decide on a career in research?
I envisioned myself as researcher early on and I just followed my intuition while thinking about what I could possibly contribute to. I like solving problems and finding creative solutions, so research was a natural fit.
If you weren't in the field of biomedical engineering, what would you be doing?
I could possibly be a designer or an architect for the creativity inherent to these fields.
What inspires you most about your work?
People's health. We are all likely to experience a life-threatening condition in our lives, and importantly, we all have loved ones affected. If I can contribute in bringing a solution to patients once in my career, or help others make that move, this would represent my ultimate reward. This is what drives me.
What is a current project or work you are excited about and why?
We are currently excited by the possibilities of targeting circulating tumor cells, which are the circulating seeds of tumor spread and metastasis. Overall, therapeutic research on metastatic cancer has been less of a focus in comparison to treating primary tumors, but, ultimately patients die from metastases or related complications such as thrombotic events. An anti-metastatic therapy would make a big difference for slowing cancer progression, particularly for patients who have unresectable cancers or have developed early signs of cancer metastasis.
Your work on platelet 'decoys' to prevent blood clots and cancer metastasis was recently published in Science Translational Medicine. How could this discovery ultimately help cancer patients?
Our work is currently at its developmental stage, however I hope platelet-derived therapeutics can continue to move forward based on this ground work and offer potential options for anti-metastatic therapy. Possible future uses could be infusion with chemotherapy in high risk patients, as a combined approach to prevent cancer progression. This could also help cancer patients in limiting cancer-associated thrombotic events, which affect a majority of them and can cause morbidity and mortality. We look forward to continuing this work in exciting directions.
What makes the GW Cancer Center unique when it comes to collaborative research?
I think the GW Cancer Center has an enormous potential in terms of collaborations because of the extent of complementary expertise it includes. I am excited to see how the GW Cancer Center will evolve in the next few years.
What advice would you give to an aspiring researcher who wants to work in your field?
Develop your own creativity based on your existing knowledge and experience. I also believe that persistence is vital in any field.