Monica Rengifo-Pardo, MD, Clinical Research Coordinator at the GW Cancer Center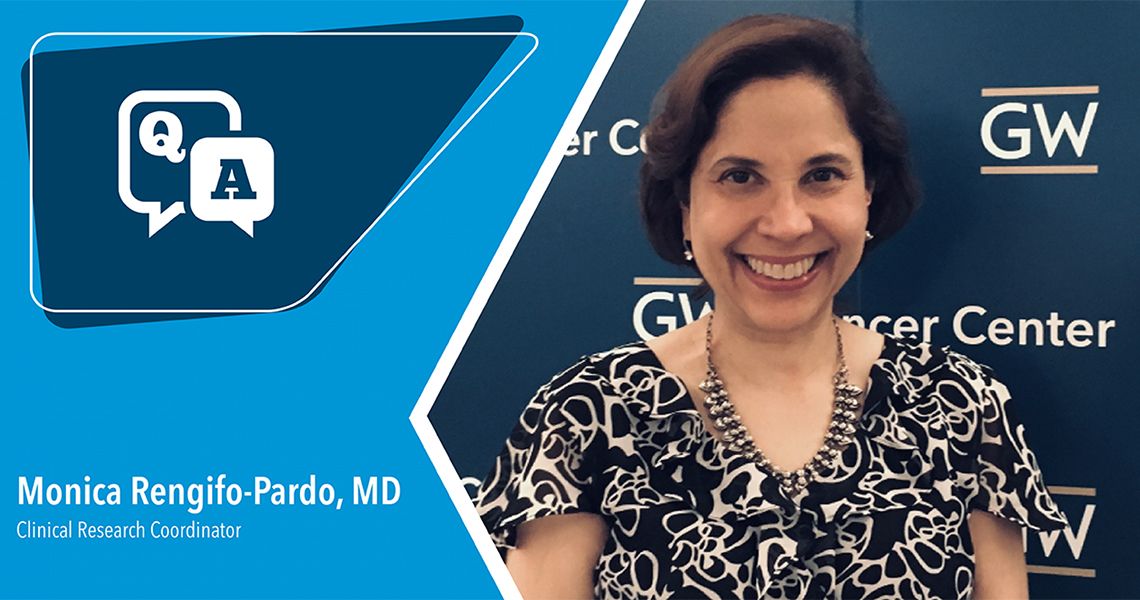 Dr. Rengifo-Pardo is an accomplished dermatologist and clinical instructor of dermatology at the GW School of Medicine and Health Sciences. She also serves as clinical research coordinator at the GW Cancer Center.
What brought you to GW?
My interest in work in a Dermatology clinic that combined research, teaching to students, fellows and residents and every day clinical work. I also wanted to be able to help address patients' medical needs under the direction of talented GW physicians and also offer patients the opportunity to participate in clinical trials in my role as study coordinator. It allows us to think beyond the already approved medications or procedures and be innovative, creative and resourceful with new studies, new trends and always being open to learn more.
How did you decide on a career in medicine and research?
As medicine evolves, research is fundamental at all levels so we can offer better clinical care to patients. Knowing the basic sciences, understanding the need for research at all levels, and putting it into practice for the benefit of patients has been a goal in my professional career. I just find it fascinating!
If you weren't in your current field, what would you be doing?
I would be back in Columbia where I am from, and I would be working as physician willing to help people in the city and from remote areas where access to health coverage can be limited.
What inspires you most about your work?
The passion, dedication and love to help the patients that I see in our research community members, who lead by humble example. Being close to patients facing difficult to treat diseases inspires me to work in clinical trials that can be a response to those unfilled needs. It requires the work of a team, including the research pharmacists, phlebotomists, nurses in the infusion center, medical assistants, sutdy coordinators and all our administrative personnel too. Feeling like a part of this team at the GW Cancer Center has been an honor and a privilege for me.
What is a current project or work you are excited about and why?
A current project I'm excited about in our Cutaneous Oncology Program is a Regeneron-sponsored study using immunotherapy in patients with high risk cutaneous squamous cell carcinoma. We were the first site in the world to be opened for this trial. This is a novel way to treat this condition, and with study leader Vishal Patel, MD, FAAD, FACMS, we are excited to be working on this study.
The possibility of having more studies to cover an open range of malignancies in every specialty is extremely challenging and motivating to continue to work more and reach our goals to cover the needs of the population we serve.
How can patients get involved in clinical trials or how can providers refer a patient to a clinical trial at GW?
Patients or providers can visit our clinical trials page and find the phone number listed under "contact info" for any trial of interest. They can also email cancercenter@gwu.edu or call us directly at (202) 994-0872 for general inquiries or to be redirected to the team working on the specific area or trial in question.