Coping With Cancer and the Holidays: Advice for Patients and Caregivers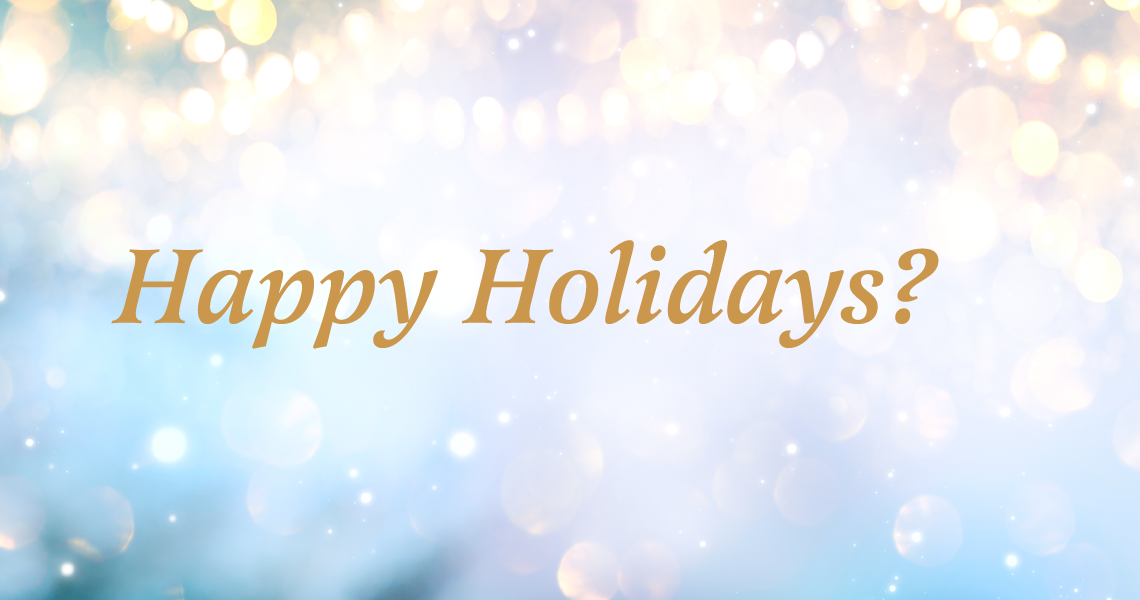 The holiday season is upon us. Pumpkin spice, jingle bells, and candlelight from Menorahs are making their annual appearances and the calendar is filling up with festive events. For many, it's a season of joy. But for those dealing with a cancer diagnosis, whether it's for the first time or an ongoing issue, the festive season may not be at the top of their lists.
What are the best ways patients and caregivers can cope with the dual stresses of the holidays and cancer? There are coping tactics that can help patients, caregivers, and loved ones manage the holidays.
The Best Way is Your Way
First: there is no best way. "This is not a one-size-fits-all situation," said Reverend Richard Bauer of the George Washington University Institute for Spirituality and Health (GWish). The GW University Institute offers programs to address spiritual health as an important part of treating patients.
As the Institute's Health Care Chaplain, Bauer works closely with GW Cancer Center patients, their families, and caregivers providing spiritual guidance. "The holidays can bring a sense of the familiar to a very chaotic time when cancer is turning life upside down. This is when tradition and ritual can offer comfort. But sometimes, that's not the case at all."
Bauer advises his patients to do what feels best and right for themselves and their loved ones, starting with acknowledging that their lives have changed — a lot.
Sometimes, the decorations and merriment can feel like too much. "And that's OK," said Bauer. He tells patients to be aware of whatever they're feeling because feelings "just are." He also advises patients and caregivers to acknowledge where they are in their cancer journey. The holidays can feel quite different for someone who received a Stage III cancer diagnosis on Nov. 25, than they do for a person whose last chemo treatment was Dec. 10.
Give Yourself Permission to Say No
"If you're used to preparing and hosting Thanksgiving dinner, and it's just not feasible this year, you can make modifications," said Jessica Gelfarb, clinical social worker at the GW Cancer Center. Think about a potluck-style gathering instead. Let someone else roast the turkey and mash the potatoes (and do the dishes). Instead of hauling out all the holly, unpack just the decorations you love best. If you don't have the physical and emotional energy to expend, consider tucking in under a cozy blanket with a mug of your favorite hot beverage and the remote or a good book. Saying no is sometimes a yes in disguise.
Find Your Community to Lean On
So much of the season revolves around spending time with friends and family. However, if they haven't experienced a difficult life event, from the emotional upheaval to the physical limitations, they may not grasp the scope of what you're dealing with. While well-meaning, they are not walking in your snow boots. It's important to find people who know and understand what you're going through.
Look for cancer or caregiver support groups. The deep understanding of the members' shared experiences is especially valuable. The GW Cancer Center has multiple support groups for specific cancers and partners with the Smith Center for Healing and the Arts for additional programming for young adults, LGBTQ+, and caregivers. Yoga and meditation sessions are offered several times each month. For those who can't participate in person, virtual options are available.
Prioritize Y.O.U.
Make yourself a priority. Whether you're the patient or the caregiver, prioritizing your well-being is paramount.
Choose healthy foods. This doesn't mean passing up your favorite holiday treats; go ahead and indulge, just don't overindulge. Your treatment may impact your appetite, and you may have to adjust what you eat and how you eat it. Instead of three large meals, you might be better off trying several smaller meals or snacks throughout the day.
Get enough rest. Your brain and body are managing more stress, so find the time to relax even when your days may be racing along at super speeds. Sleep is restorative. Good sleep habits (also known as sleep hygiene) are critical to your overall health. Sleep deprivation may exacerbate symptoms and increase your discomfort.
Be as physically active as you are able. Exercising will help elevate your energy levels and may even help with side effects. Consult with your care team about how to incorporate physical activity into your daily routine. The goal is to stay as active as you can, even if you're taking a short, slow walk.
For caregivers: watch for burnout. The physical and mental demands of caring for a cancer patient, coupled with the additional holiday to-do lists, can leave caregivers feeling overwhelmed and exhausted. "Take time for yourself," advised Sara Richman, another clinical social worker at GW Cancer Center. "Take a break [from caregiving] and do something you enjoy. Go to a coffee shop for a little while or to the gym or a library, go see friends – leave the house and change your environment. This is especially important for stress reduction. Having a cup of coffee in the kitchen isn't going to give you the break you need."
Lastly, be in the moment and find joy in your holiday celebrations, whatever they look like this year. Make this holiday season about hope and thankfulness, family, and friends.